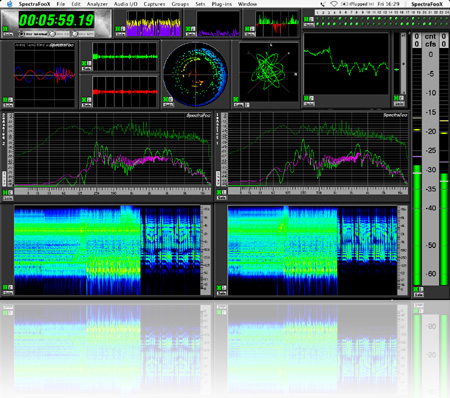 SpectraFoo provides all of the tools today's digital projects demand. Whether you are a live sound engineer or a studio mixer, you need the power that Foo provides. Including standards-based level metering, high-speed, high-resolution spectral analysis, the unique Phase Torch, correlation metering, triggerable waveform display, power balancing and a variety of power, envelope and spectral histories and phase analysis on any number of input or output channels, the SpectraFoo range is absolutely essential for broadcast production and critical mixing & mastering.
SpectraFoo is used around the world for analysis in mixing, mastering, acoustic analysis, live audio and electronics.
By using features like:
Windowsets: Arrange any combination of analysis instruments however you want, save commonly used combinations and recall them on the fly via menu or keycommand
Link groups: Selectively link controls of multiple instruments; for example, have all level meters display using the same scaling or control the frequency range of several Spectragraphs with a single slider
Massively multichannel: Up to 24 independent analysis channels
SpectraFoo allows you to create unique combinations of analysis instruments to fit your needs, whatever they may be. One tool, many uses.