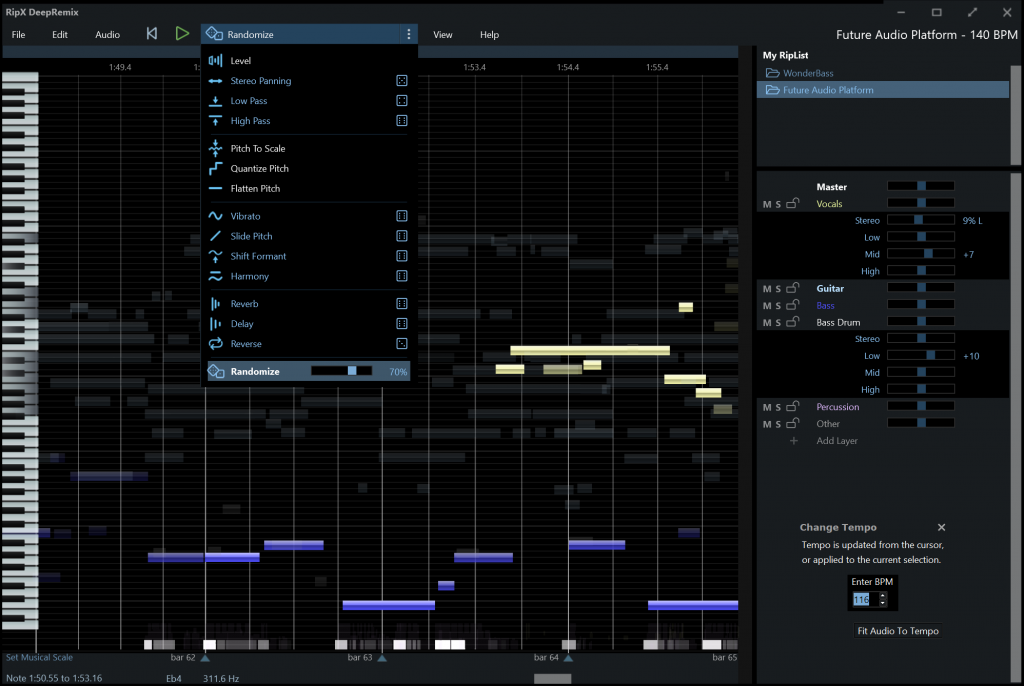 Cutting-edge remix software that splits full-mix stereo MP3s, WAVs and most mainstream file formats into voice, drums, bass, keyboard, guitar, sound effects and other layers.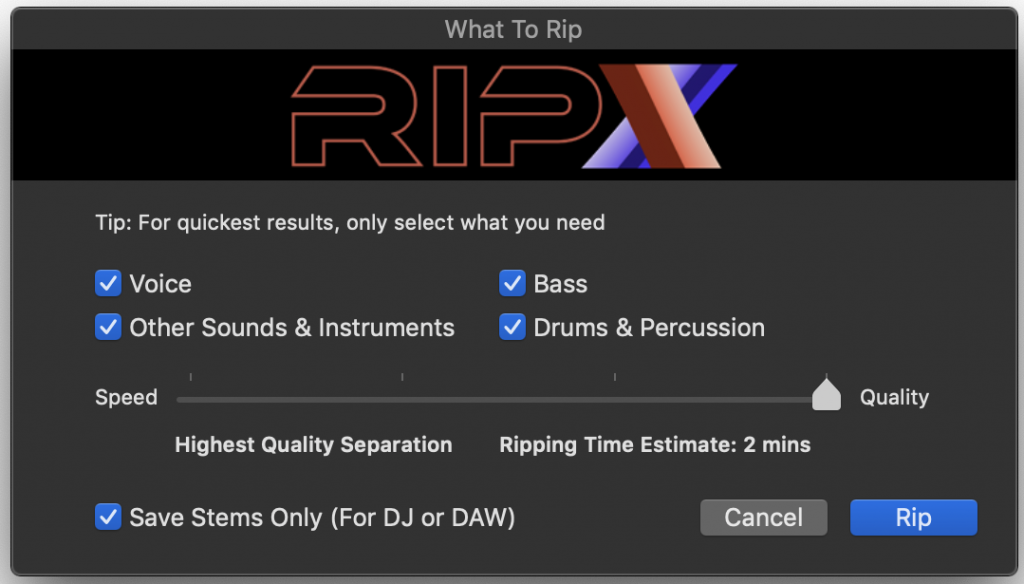 Export straight to WAV stems to add to your DJ set or to perform or practice over, or use DeepRemix's powerful remix software tools to take your music to the next level, copying and pasting parts between tracks and much more!
For Remixers
Mix & match vocal, instrument, percussion and effects parts between different songs and layers, with revolutionary remix software.
Create acapellas.
Change tempo and apply/randomize effects and key.
Extract and manipulate samples from within mixed and mastered stereo files.
Remove drums, bass and vocals that might be in the way of other vocals, instruments or percussion, especially if the track wasn't recorded as separate stems.
Transform old mono recordings to stereo.
For DJs
Export separated stems straight to WAVs to transfer onto a USB stick for mixing into a DJ set.
Change tempo and apply/randomize effects and key.
Mix & match vocal, instrument, percussion and effects parts between different songs and layers.
Transform old mono recordings to stereo.
For Musicians
Analyze and change tempo of existing music to help learn how to play.
Create backing tracks to play along to.
For Arrangers, Transcribers & Music Publishers
Extract and export parts as MIDI files to import into notation software.
Analyze notes for transcription. If you have a customer who wants a score that sounds as similar to an existing recording as possible, RipX can expose the subtle nuances.
Extract and delete vocal parts to create instrumentals from stereo masters for sync placement purposes, without needing to open a single, original multitrack DAW project.
Alter the structure of stereo files by deleting, copying and pasting sections within rips, as well as creating new sections.
For Songwriters
Experiment with music and samples to create new ideas and creations. For example, adjust tempo, effects, pitches, keys/scales and time stretch.
Use Set Musical Scale to analyze the existing key and set new keys. The Auto Pitch To Scale and Randomize options further enable creative experimentation.
For Students & Educators
Audio is stored in Hit'n'Mix's revolutionary Rip format, a step up from waveforms, enabling full control over all aspects of sound.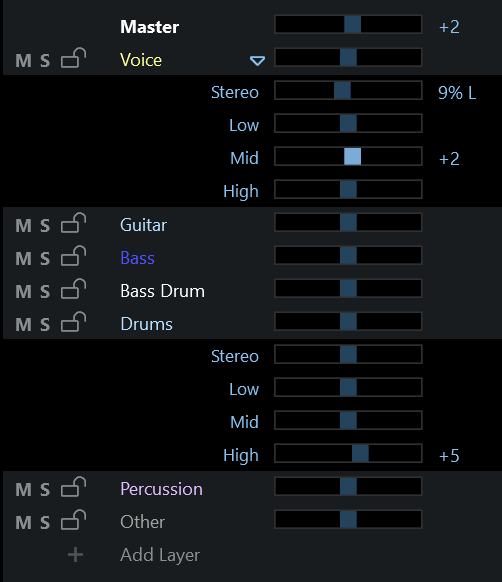 For example, you can mix your favorite parts together and have fun experimenting with different tempos, effects, pitches, scales, time-stretching, stereo panning (even on mono tracks), volume, and EQ.  You can even create loops and edit them during playback to create new music in real-time.
Copy and paste parts from one track to another, automatically fitting the new tempo.
Apply powerful built-in live effects ranging from Reverse to Delay to Vibrato. Add Harmony to thicken out a vocal, Shift Formant to change the characteristics or apply a Low/High Pass filter for a different atmosphere.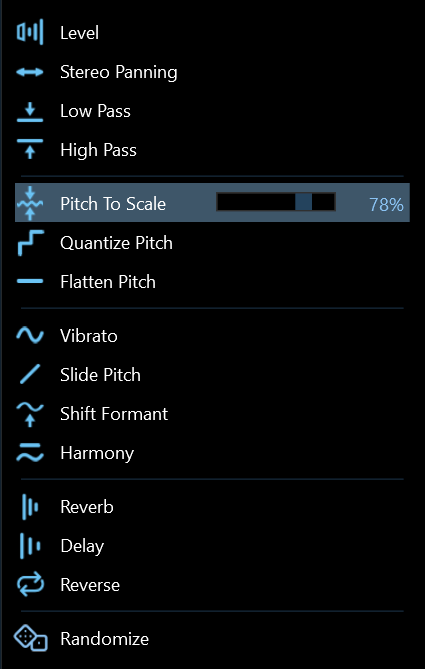 For real inspiration, apply the Randomize effect, set a loop playing and DeepRemix will automatically create variations of the audio in what we call a Ripple. You can play back, edit and copy & paste audio from a Ripple to your working Rip, or even loop and edit it real-time to create further Ripples.
To help getting the right notes & chords, you can set the musical scale or key of the track – or click Detect and let RipX work it out for you. Notes will snap to the pitches that are part of the scale as you change their pitch by clicking and dragging up/down.
Turn on Auto Pitch To Scale and RipX automatically fits notes to the scale, whilst keeping it sounding natural.
The Randomize effect means you can set up a loop and hear sections of music played back in different scales – find the one that you like best.
Drop your own background image (PNG or JPEG) onto the rip to set the mood when creating music.