Revolver is a high-powered convolution reverb that operates like no other.
It provides total impulse response control, dedicated and routable EQ, two sync-able delay lines, a reverb decay crossover network, and specialized stereo imaging for unprecedented flexibility.
Revolver provides the most compelling impulse library to date, with hundreds of sounds from rare holy grail out of production reverbs and acoustic spaces. Additional acoustic spaces and outboard gear can be modeled in a few minutes with Revolver and the Revolver impulse response tools.
Controls for the total reverb time (in percent and RT60 values), wet and dry levels are always displayed. The remainder of the Revolver plug-in interface is separated into several control pages and views. Graphical representations of signal flow, impulse response data, EQ responses, and even images of the impulse response source are available.
All parameter adjustments are heard immediately, and the outputs are not muted during any control updates. The user does not need to wait while the reverb is re-rendered.It is what convolution reverb was always meant to be.
Features
Huge preset library containing out of production reverbs, rare vintage reverbs, and acoustic spaces
Total impulse response manipulation
Pre-delay (positive or negative)
Two-band dedicated reverb EQ
Three-band routable EQ
Two sync-able delay lines
Flexible signal routing system
Tools for creating custom impulse responses
Reverb decay crossover network
Double precision processing
Low Latency
Mono and stereo versions
Formats
Native v6: AAX Native, AU, VST3
Delay
Two separately programmable delay lines are available in Revolver with delay times up to 3 seconds. The Delay 1 and Delay 2 lines may be inserted in a variety of ways as determined by the Flow Page. When synced to MIDI playback tempo, the delay control is locked to the appropriate delay value. Adjusting the Note, Meter, and Groove controls will only affect delay times when the delay is synced.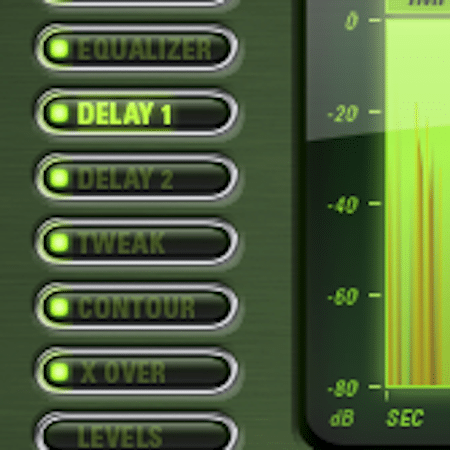 Equalizer
Revolver comes with a 3-band parametric EQ that can be inserted in one of several signal path locations. The Q for each band is gain dependent, getting narrower as the band gain is increased.
X Over
The output of the reverb engine is sent through a three-band cross over, and the reverb decay of each band's output is adjusted as a percentage of its original length. The crossover network is a system of 24 dB/Oct filters that provide maximum side band rejection and minimal signal leakage into adjacent bands. The Decay control determines the percentage of the original reverb length. A setting of 100% does nothing, while values less than 100% shorten the decay, and values greater than 100% increase the decay time.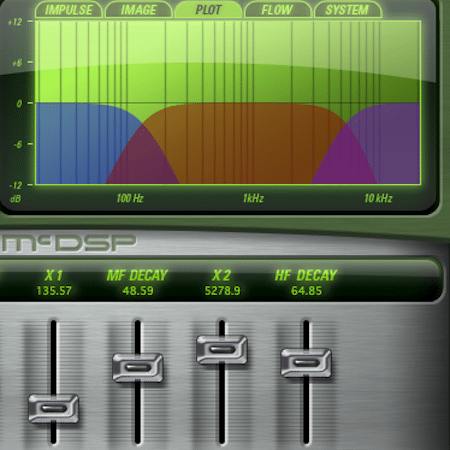 "Revolver is great for interesting verb effects and ambient spaces."
Award winning multi-instrumentalist, vocalist, mix engineer