eMedia Guitar Method Deluxe combines beginner guitar lessons and intermediate guitar lessons into one great, extra value package containing over 360 audio- and video-enhanced lessons and over 130 songs that you can learn to play. Learn quickly with the carefully planned, step-by-step curriculum combined with eMedia music technology designed to enhance learning. Included in the applications are a built-in automatic tuner, metronome, recorder, 1000-chord dictionary, scale-directory, and a fretboard note chart.
eMedia Guitar Method has received top ratings and honors from PC Magazine (Editors' Choice), Guitar Player, Guitar One and Newsweek. You can take your playing to the next level with eMedia Intermediate Guitar Method, which has received praise from guitarists and guitar teachers alike. Guitar icon Peter Frampton says, "This is the ultimate way to learn how to play guitar! You learn at your own pace, and it's easy for anybody."
New v6 Features: Chord Recognition, Jam Tracks, New Songs, and Much More!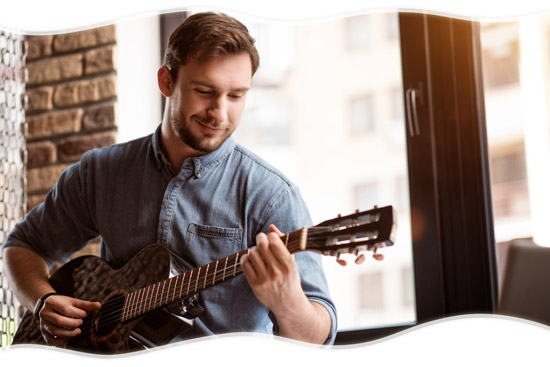 The Easiest Way to Learn to Play Guitar

Interactive Feedback on Your Playing

Instant Feedback shows you when you play the correct notes on your guitar as you progress through an exercise, and Guitar Method v6 now features chord recognition! With a microphone connected to your computer and a guitar in your hand, play the notes in the exercise (or song) on any screen featuring the "ear" icon in the upper right corner and the computer will highlight the notes for you in green. You'll discover that reading tablature and music notation is easier than you ever thought possible!

Note and Finger Tracker

The Note Tracker and Finger Tracker tools makes it easier to see what note you're playing by displaying the note as music notation and on eMedia's Animated Fretboard. You'll be able to correct your playing quickly and learn to read music fast!

Flash Card Quizzes

Interactive Flash Card Quizzes

After you've been prepped with exercises designed to teach you to read tablature and notation, try the interactive flash card quizzes to reinforce what you have learned. Flash card quizzes in Guitar Method utilize our Pitch Tracking technology to detect notes played on your acoustic guitar!

Over 360 Step-by-Step Guitar Lessons

The easy-to-follow lessons start with the basics, such as stringing the guitar, and move to playing simple chords and strumming styles, including modern rock strumming and power chords. They continue on with reading tablature, playing melodies, fingerpicking, and standard music notation. The intermediate volume moves on with additional techniques in exciting solos, barre chords, fingerstyle guitar, scales and improvisation. Your teacher is professional guitarist Kevin Garry, Ph.D., from the University of Colorado at Boulder. The excellent teaching he offers will get you playing quickly!

eMedia Guitar Method and eMedia Intermediate Guitar Method feature songs in a variety of genres to make learning fun and memorable – including Rock, Blues, Folk, Country, and Classical! Highlighting of the music and lyrics as they're heard makes it easy to follow along on guitar. Our latest version includes dynamic, enhanced, multi-track audio playback of hit songs popularized by well-known artists, such as:

Bob Dylan ("Knockin' on Heaven's Door")
Eric Clapton/The Rolling Stones ("Spoonful")
Jim Croce ("Time in a Bottle")
Bob Dylan/Jimi Hendrix ("All Along the Watchtower")
John Lennon ("Imagine")
Johnny Cash ("Drive On" and "Wayfaring Stranger")
Rolling Stones/The Doors ("Little Red Rooster")
The Steve Miller Band ("Rock'n Me" and "Jet Airliner")
Heart ("Dreamboat Annie")
Rod Stewart/Tom Waits ("Downtown Train")
The Grateful Dead ("Uncle John's Band")

Also included are popular songs, including "Scarborough Fair," "La Bamba," "Midnight Special," "Ode to Joy," "Minuet," "Greensleeves," "House of the Rising Sun" and many others (Guitar Method songlist, Intermediate Guitar Method songlist).

Over 80 Guitar Lesson Videos

Professional guitar instructor Kevin Garry, Ph.D., guides you in over 80 videos with demonstrations of techniques – now larger, with enhanced quality! Many of the videos include split-screen displays with close-ups for a clearer perspective. You can even view them in full-screen mode if you want to.

Music Notation Display Options

Learn via guitar tablature or standard music notation through this easily accessible menu option.

Song Highlighting and Looping

Song looping lets you highlight and repeat any section of music you wish to practice. Slow the music down with variable-speed MIDI tracks!

Variable-Speed MIDI

Slows down the audio to any tempo, while the Animated Fretboard shows song fingerings as the music plays. Learn at the pace best suited to you!

Animated Fretboard

The Animated Fretboard displays fingering positions as the music plays. It allows you to see exactly how to play the song on a guitar fretboard as you hear the music. Since you can highlight and loop any section of the music (or even double-click on a single note in the music), you can use the Animated Fretboard to make difficult sections or quick changes easier to manage and learn. The Animated Fretboard makes it simple to follow along with the lesson content. Includes option for both right- and left-handed views, and, just for fun, in Guitar Method you can choose from six different fretboard skins modeled after classic guitars!

Scale Directory

Fingerings, recordings and variable-speed MIDI for over 150 scales make practicing and learning new scales easy. When scales are introduced in the lesson material, they are followed by sample songs applying those scales, making the learning experience practical and fun.

Music Theory

An interactive Circle of Fifths helps teach music theory and is linked to scales in the Scale Directory chapter in Intermediate Guitar Method. Intervals, chord construction, the basics of improvisation, and modes are also covered.

Guitar Tuner

Tune your guitar quickly and easily. A precision gauge allows you to play into your computer's microphone and tune up interactively. Reference guitar tuning notes are also included.

Chord Dictionary

With fingering charts and recorded playback for over 1000 chords. Find new chords for songs quickly.

Metronome

Set your tempo and practice keeping a steady beat with audio and visual indicators.

Audio Recorder

Save your recordings and play back to share and compare.
eMedia Guitar Method Deluxe includes two complete eMedia Methods:
Disc 1 – eMedia Guitar Method Contents Summary
Introduction
I. About the Guitar
Types of Guitars; Stringing; Tuning; Holding; Finger Position; Reading Charts; Simple G Chord.
II. Simple Chords and Strumming
Songs Introducing Simple C and G7; Full A7, C and D Chords; Double Strum.
III. More Chords and Adding Accents
Songs with Accents; Shifting Accents; 3/4 Accented Time; A, Am, D7, E, Em, E7, Full G Chord.
IV. Slash Chords and Chord Progressions
Songs with Slash Chords G/B, A/C#; New Chords Am7, Bm, B7, C7, Dm, F, Full G7; "Imagine."
V. Rock Strumming and Power Chords
Folk Rock; Syncopation; Power Chords A5, D5, E5; Palm Muting; Contemporary Rock Strumming.
VI. Playing the Blues
Introducing the Blues Rhythm: "Corrina," "Little Red Rooster" and Others; the 12-Bar Blues.
VII. Modern Rock Strumming and Movable Power Chords
Movable Power Chords and Riffs; Palm Muting in Modern Rock; Rock/Punk Strums; The Chika.
VIII. Reading Tablature and Playing Melodies
Tablature; Rhythmic Notation; Melodies – Folk to Classic; Boogie Woogie Bass; Blues Shuffle.
IX. Bass-Note Strum with Country Tunes
Popular Songs with Bass-Note Strum; Bass-Note Double Strum; Alternate Bass-Note Strum.
X. Fingerpicking – from Arpeggio to Travis
Introduced in "Scarborough Fair," "House of the Rising Sun," "Romanza," and Others.
XI. Reading Standard Music Notation
How to Read Music String by String; Rhythm; Time Signatures; Accidentals; Key Signatures.
XII. Ear Training
Introduction to Playing by Ear; Using Your Voice; Direction, Distance, and Duration.
Appendix
Button Symbols; Commands and Shortcuts; Song Looping; Tools (Animated Fretboard, Recorder, etc); Instant Feedback; Performance Evaluation.
Disc 2 – Intermediate Guitar Method Contents Summary
Introduction
Contents; review of basics including tablature, music notation and notes on the fretboard.
I. Melodic Guitar – Left-Hand Techniques
Hammer-ons, pull-offs, triplet slurs, trills, vibrato, slides and bends introduced in riffs and songs such as "Crawdad Hole," "Jesu," "Largo," "Scarborough Fair," "House of the Rising Sun" and 12-bar blues solo.
II. Rhythm Guitar – Barre Chords
E-shape and A-shape barre chords; chord progressions; interactive chord charts for all positions, barre chord excerpts for "Midnight Special," "Watchtower" and "Touch of Grey;" chord charts; symbols.
III. Strumming Styles – Folk, Country, Blues & Rock
Bass-strum techniques; shuffle rhythm; palm muting; songs including "All Along the Watchtower," "Drive On," "Touch of Grey," "Jet Airliner," "I'm Your Captain," "Sloop John B."
IV. Using Scales and Building Chords
Intervals; scales (major, minor, blues, country, rock and other); chord construction (triads, seventh, extended and altered chords); circle of fifths; improvisation basics.
V. Guitar Solos
"Spoonful" (Dixon- and Clapton-style); "Touch of Grey" (Garcia); "Too Much to Lose" (Jeff Beck); "All Along the Watchtower" (Hendrix-style).
VI. Fingerstyle Guitar
Travis and arpeggio style; picking variations; harmonics; songs including "Dreamboat Annie," "Time in a Bottle," 12-bar blues, "Greensleeves," "Für Elise," "Malagueña," "Romanza."
Scale Directory
Major, natural minor, blues, major pentatonic (country), minor pentatonic (rock) in open and closed (movable) fingerings.
Appendix
Button symbols; program commands; tuner; chord dictionary; recorder; metronome; etc.