CompressorBank is a high-end compressor plug-in designed to emulate the sounds of vintage and modern compressors, while delivering complete control of dynamic compression.
The CompressorBank is three plug-ins:
CB101 – Basic compression
CB202 – Compression with pre-filtering
CB303 – Compression with pre-filtering and static/dynamic EQ
In addition to the standard threshold and ratio controls, the actual shape and response of the compression curve can be adjusted with the Knee and BITE controls. Flexible compression control is complimented with pre-filtering and post-compression EQ.
Features
Compression curve modeling
Multiple peak detection circuits
Static and Dynamic EQ
Side chain support and pre-filtering options
Analog saturations modeling
Double precision processing
Ultra low latency
Mono and stereo versions
Formats
HD v6: AAX DSP/Native, AU, VST3
Native v6: AAX Native, AU, VST3
Vocals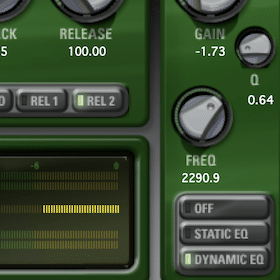 Often the dialog or vocal varies in level by too great an amount for it to 'sit' with the rest of the audio content of the production. Fortunately CompressorBank is able to respond in natural ways to dialog and vocal signals, so the compression 'effect' is not too much of, well, an 'effect'.
Drums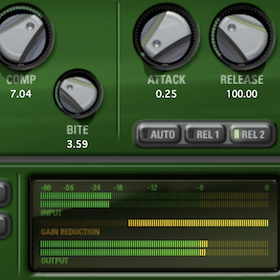 Using a ratio between 6:1 and 8:1, select an attack time of 0.2 msec, a release time of 100 msec, the Type 2 TC circuit, and default values for Knee and BITE, reduce the threshold until about 15 to 18 dB of gain reduction is shown in the orange meter. Increasing the attack can bring the overall level of the drum kit up. Conversely, you can increase the BITE control from its default 'off' value to about 4.0 to 8.0 for a great 'thwack' sound.
Bass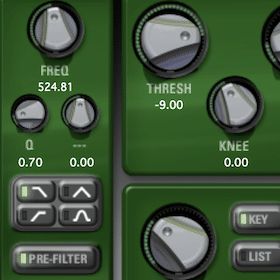 Enter the pre-filter section. Choose the low pass filter mode, a default Q of 0.7, and a frequency between 200 and 800 Hz. Now listen to that playback again. By filtering out the high frequencies from the key signal, the compressor is no longer tracking those signals, and hence no longer produces buzzing at the output.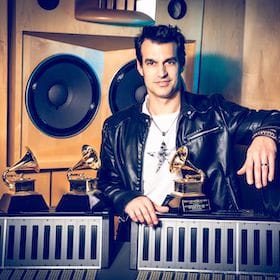 "The CB101 is my go-to."
3x Grammy Winning Engineer