The best sounding Leslie models in digital form, period.
AmpliTube Leslie® is the result of the exclusive collaboration between the IK Multimedia team and Hammond USA and Suzuki Music Corp. of Japan with the aim of perfectly recreating, for the first time ever, the truly authentic sound of the legendary Leslie® amps and cabinets in the digital world. Be prepared to be blown away by what these rotary speaker emulations can do for your guitar tone, or anything else.
AmpliTube Leslie overview
Gear collection for AmpliTube Custom Shop
5 officially-certified Leslie® amps and 6 cabs
Breakthrough DIM™ technology for unparalleled realism
Sound-certified and approved by Leslie®
No previous version of AmpliTube required
Works seemlessly with the new Custom Shop updates
Also included in
AmpliTube 5 MAX
Total Studio 3 MAX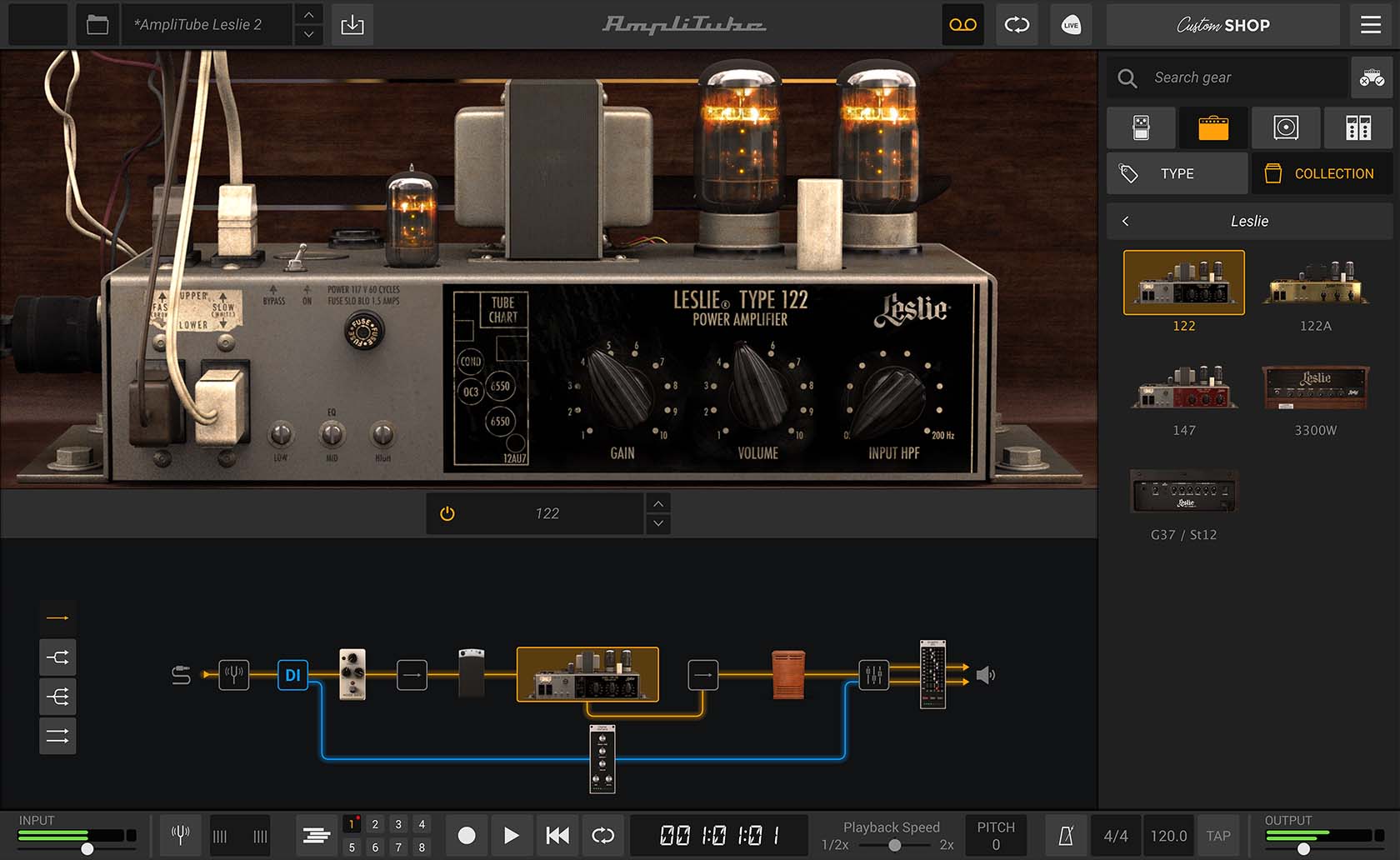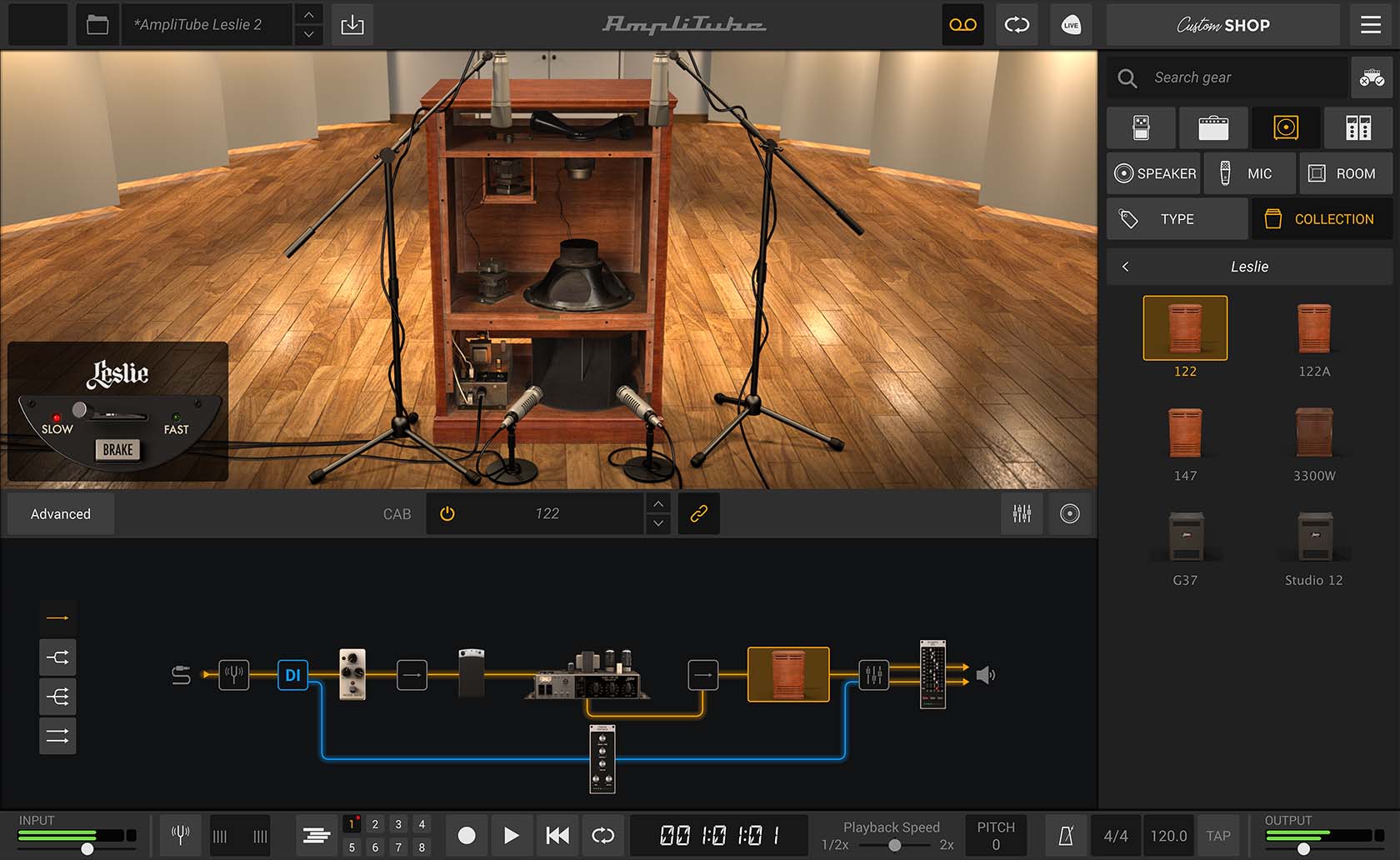 Control of every parameter
We painstakingly captured every nuance of what makes a Leslie unique. From microphone distance and position control, precise level balancing, different amp and cab combinations, circuit overdriving, width, acceleration and deceleration control of the rotary speaker, horn/drum balance and more, you have everything you need to give your tracks the unmistakable Leslie sound.
Gear available in AmpliTube Leslie
The amplifiers
AmpliTube Leslie has a distinct advantage over its competitors with its circuit-modeled amplifiers, which are critical to recreating the signature tone of these incredible units, especially when overdriving the amp circuit, typical of genres like rock and blues.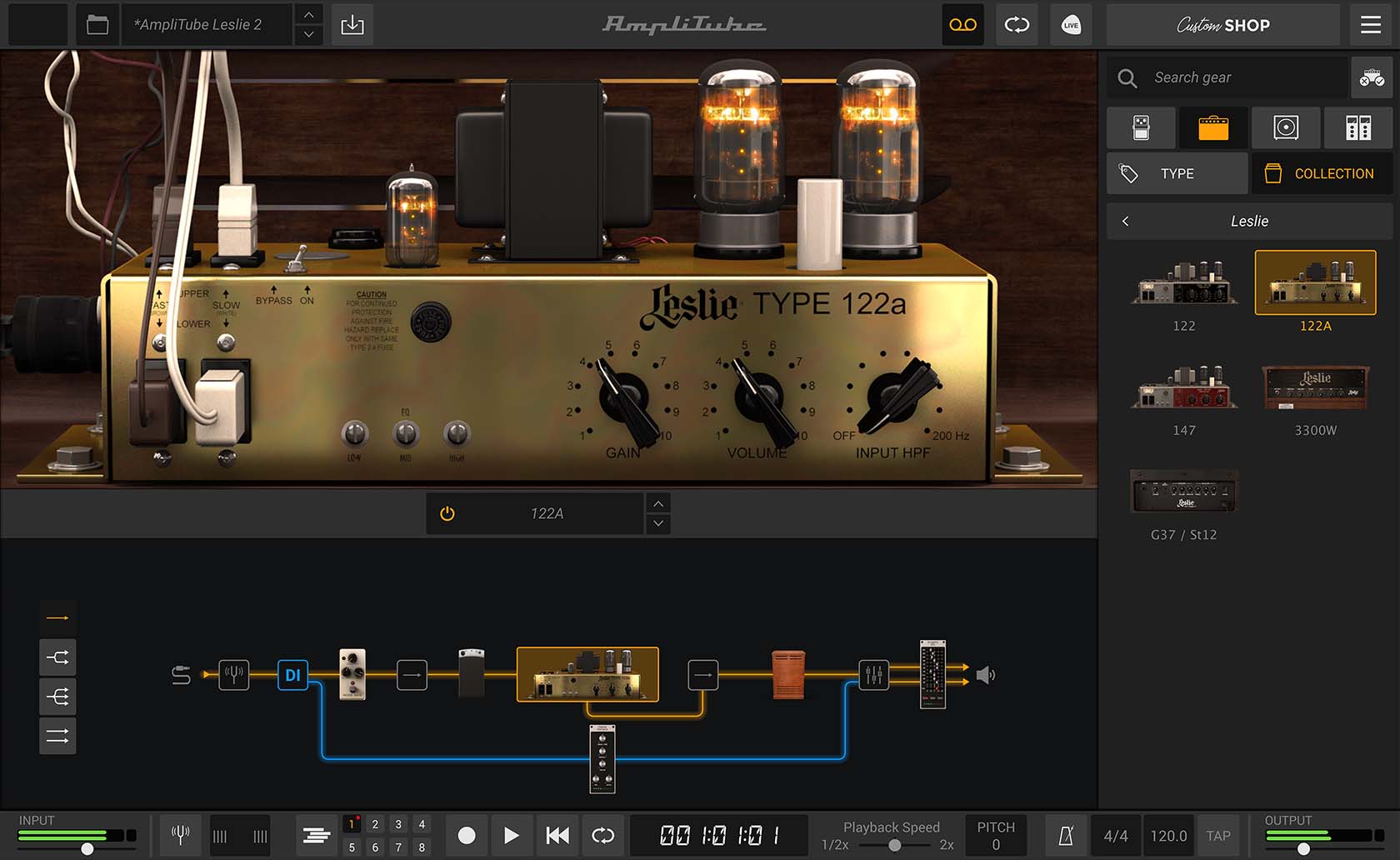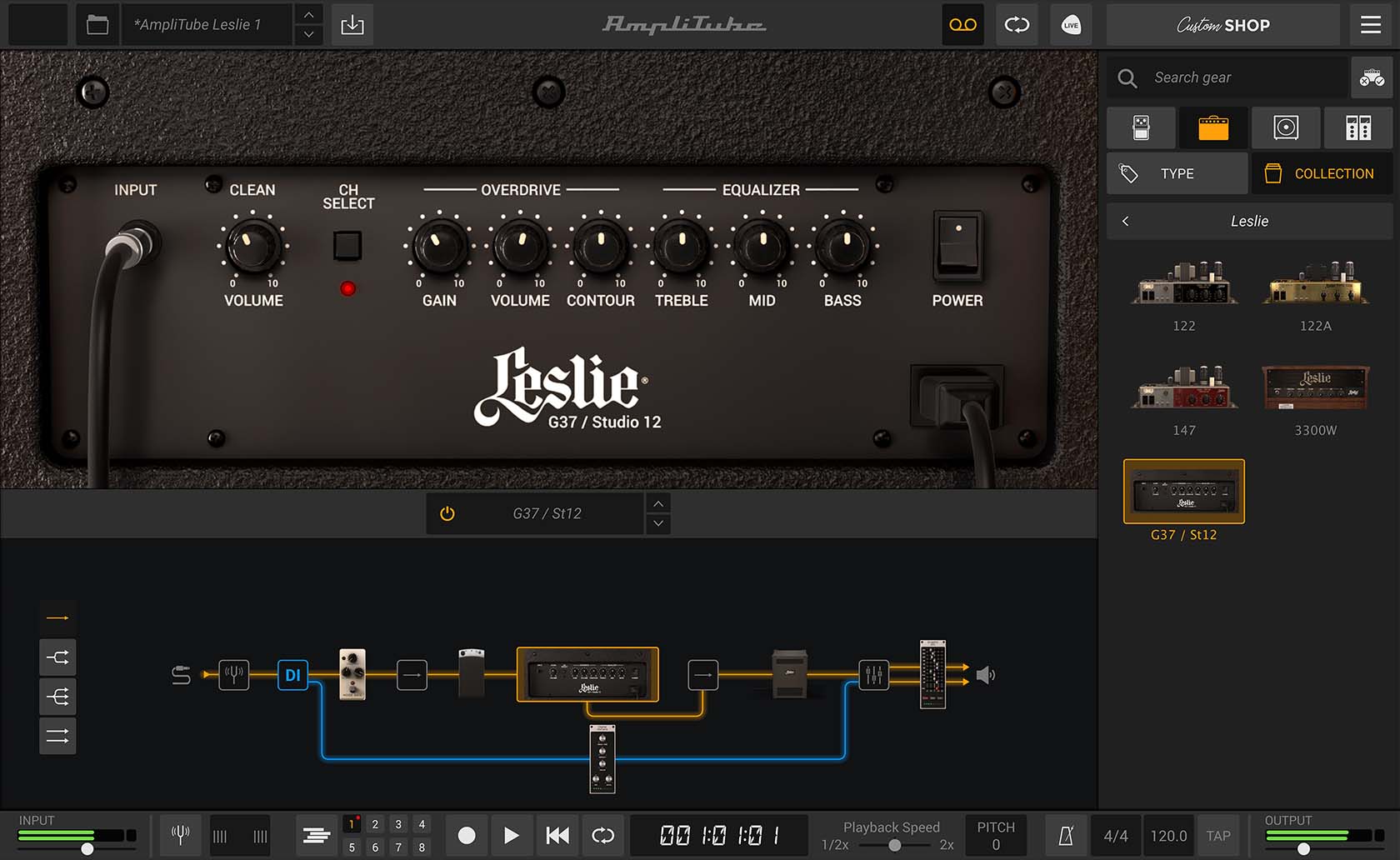 The cabinets
Leslie cabinets are very complex to reproduce in the digital realm because of the number of time-variant effects that happen within the sound simultaneously during the rotation of the rotors. These include the Doppler effect plus continuously and smoothly variable delay, frequency and phase response as well as variable reverberation/reflections inside the cabinet walls, and that is just scratching the surface.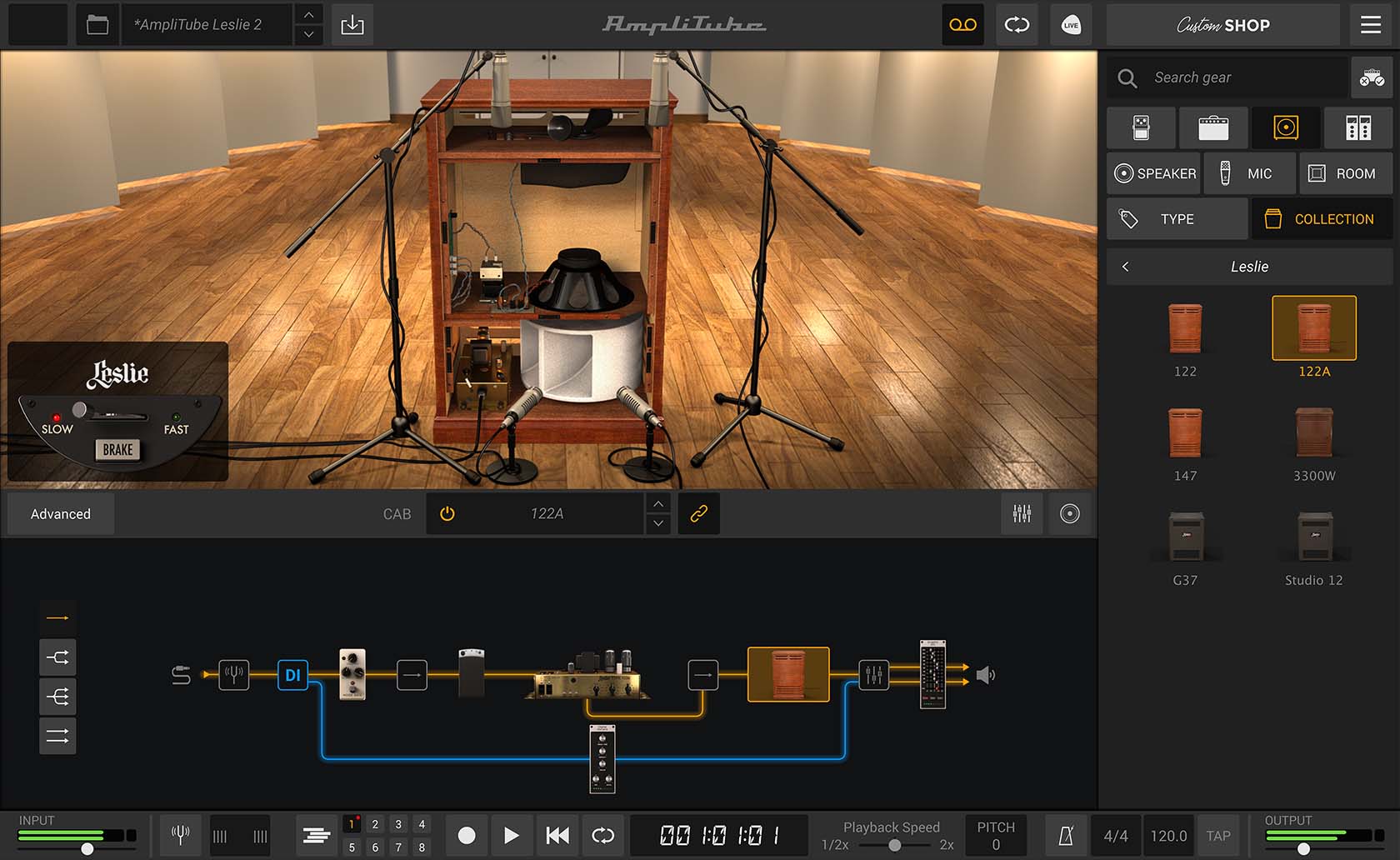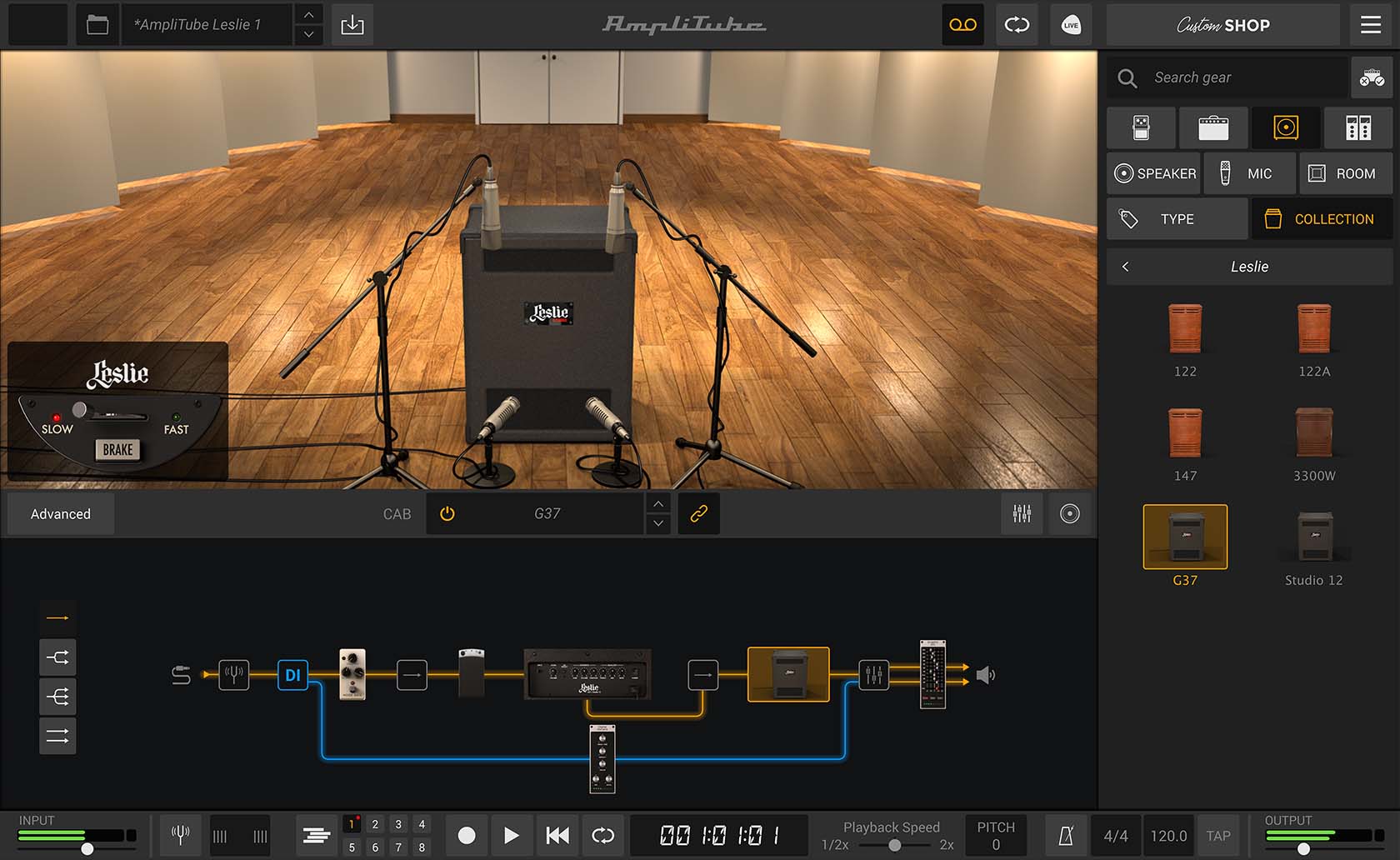 These complex machines have been recreated using Volumetric Response Modeling, a breakthrough proprietary technology from IK, that includes modeling of some parts and capturing the real audio behavior by miking up the cabinets in a high-quality room to extract the essence of their original tone. You can think of these digital Leslie models as providing actual audio recordings of the real cabinets, they are much more than an emulation algorithm!
The singing tone of these legendary cabinets is finally captured and at your fingertips. Plus, all horns and drums are recorded in stereo, making it possible to mix the four mics the way you prefer to fit all possible production needs. All controls are divided into three pages: Setup, Channels and EQ, while the speed controller is always visible for quick access.
5 Amplifiers
122
122A
147
3300W
G37/Studio12
6 Cabinets
122
122A
147
3300W
G37
Studio12
Unprecedented creative versatility
In the advanced view, you have control over essential parameters like Mic Setup, Mic Distance, Slow/Fast Speed, and Acceleration/Deceleration. The Mic Setup menu changes the way you mic the Leslie cabinet and affects the perception you have on the rotation, or "doppler effect." You can choose between a 90º mic position and a 180º mic position. The overall timbre and sonic character changes between the two providing even more versatility.
After these settings, we added a full parametric EQ to further shape the sound to fit your musical ideas.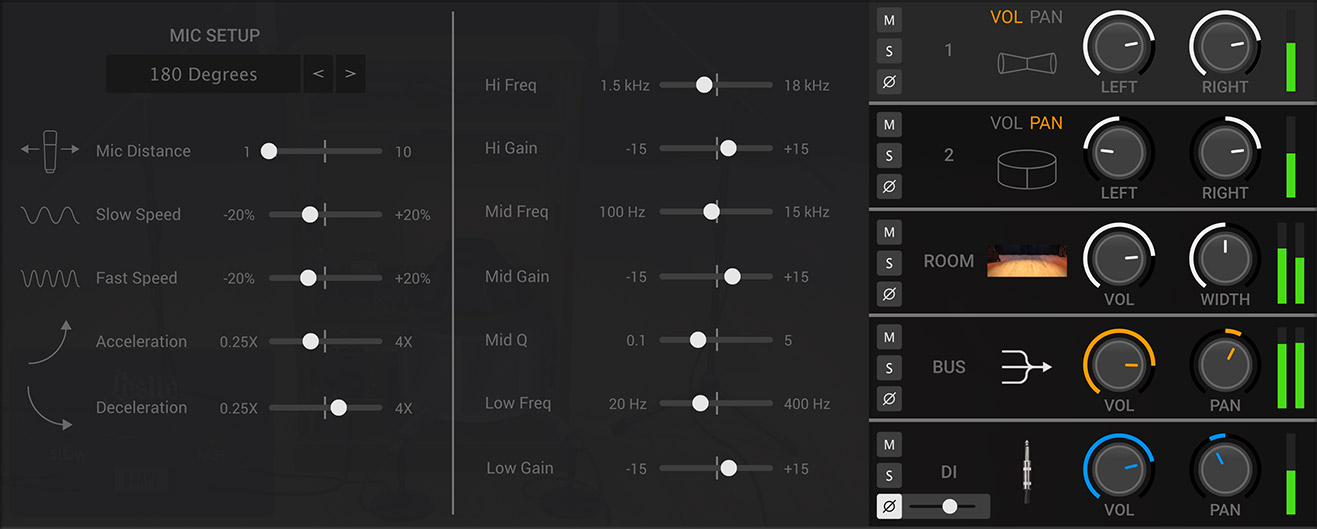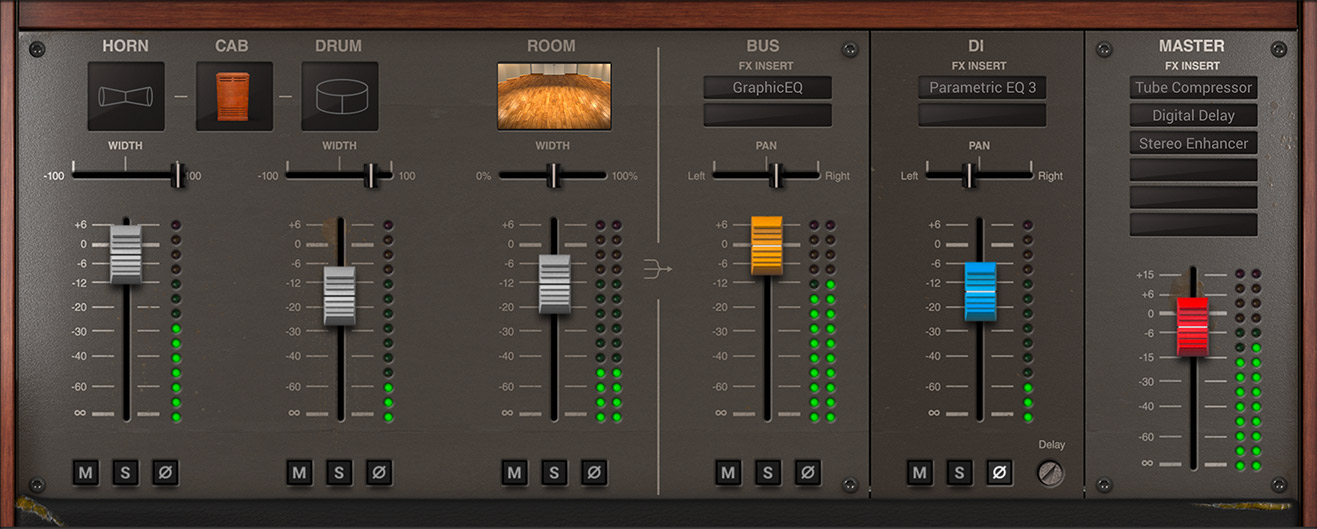 For these models, the mixer has also been customized to implement their features better. Here you have two stereo tracks for both the horn and the drum microphones where you can control the width and volume. Try the drum microphones in the center for a solid low end and put the horn microphones far to the side to emphasize width on the high frequencies.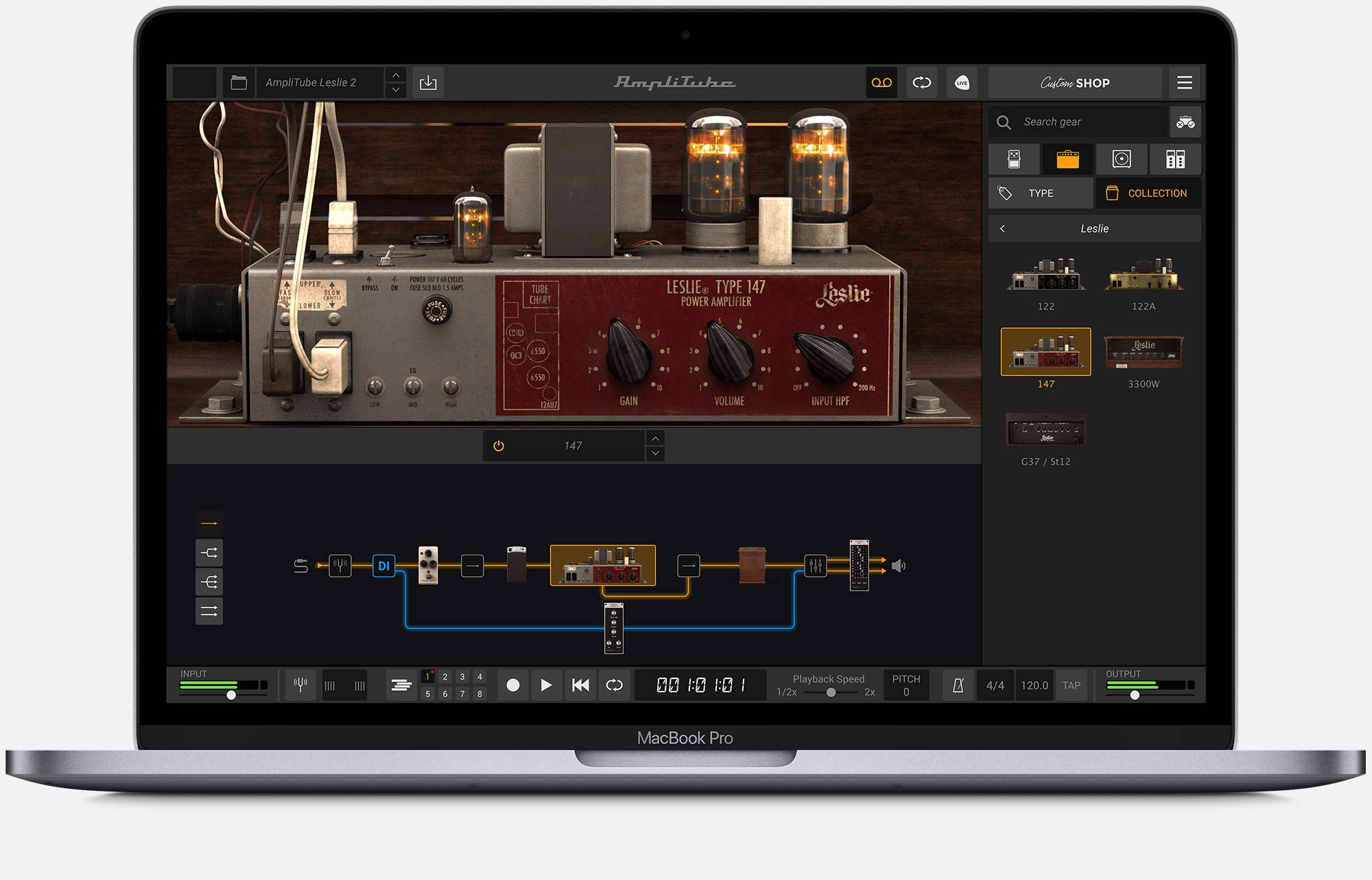 AmpliTube Leslie is also a powerful creative tool for playing, mixing and creating other sounds. Try it on guitars, synths, lead vocals, background vocals, sound effects and much more.
AXE I/O — Capture your guitar and bass 

at their best
Ready for the ultimate guitar and bass recording experience, that brings out every nuance of AmpliTube? Check out AXE I/O, IK's premium audio interface with powerful tone shaping tools. It's the audio interface guitar and bass players have been waiting for.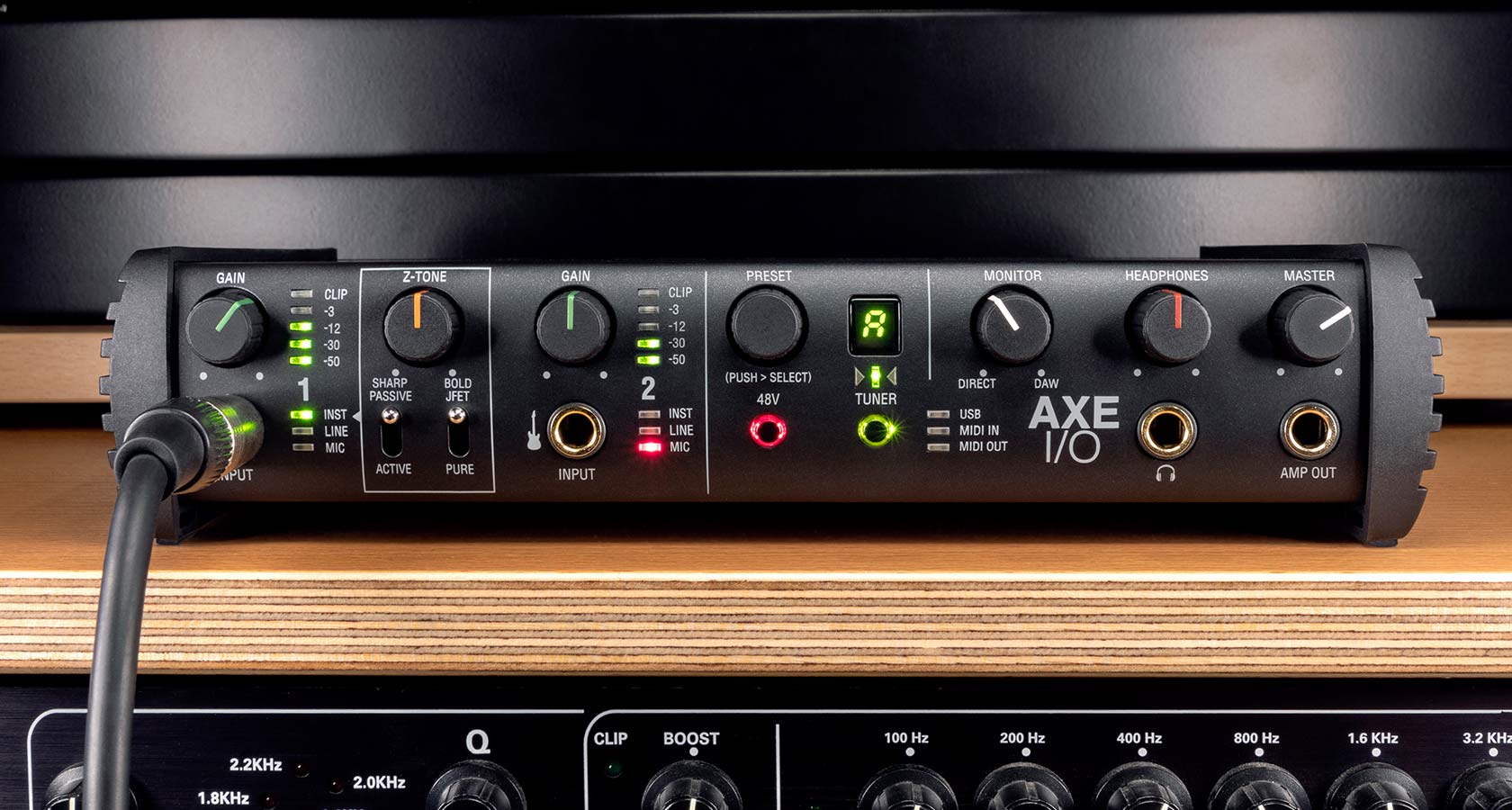 ---
Take MIDI control
AmpliTube is fully MIDI compatible, so all the knobs, controls and presets of this gear Collection for AmpliTube can be assigned and controlled with a standard MIDI controller, or a high-quality interface like the iRig Stomp I/O, or the convenient iRig BlueBoard.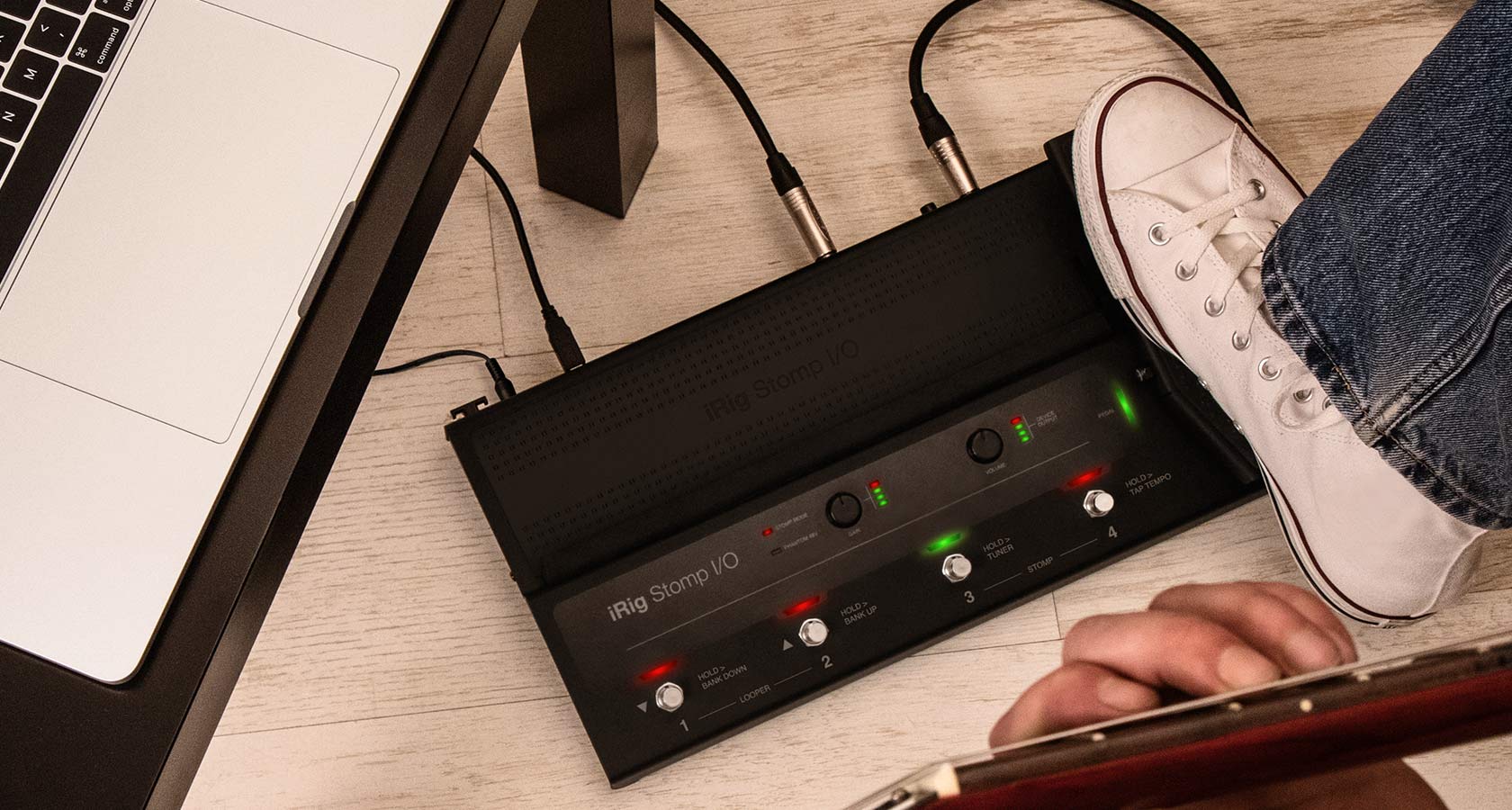 ---
A Time Machine of tone… 

for free
The AmpliTube 5 Custom Shop is a free software package for your Mac or PC that includes a complete guitar dual signal chain; tuner, pedalboard, amplifier, cabinet, microphone and rack effects section. It comes with 39 pieces of gear and access to our unique online virtual music store where you can purchase gear models either a-la-carte or as a complete collection. You can even create almost any rig you can dream up combining this gear collection with the universe of gear available to try or buy in Custom Shop.
When used as a standalone application, AmpliTube 5 Custom Shop features a 2-track recorder section and a song-player for easy play-along capabilities. The SpeedTrainer function allows you to slow down the audio so you can learn Satch's signature licks note for note without affecting the pitch.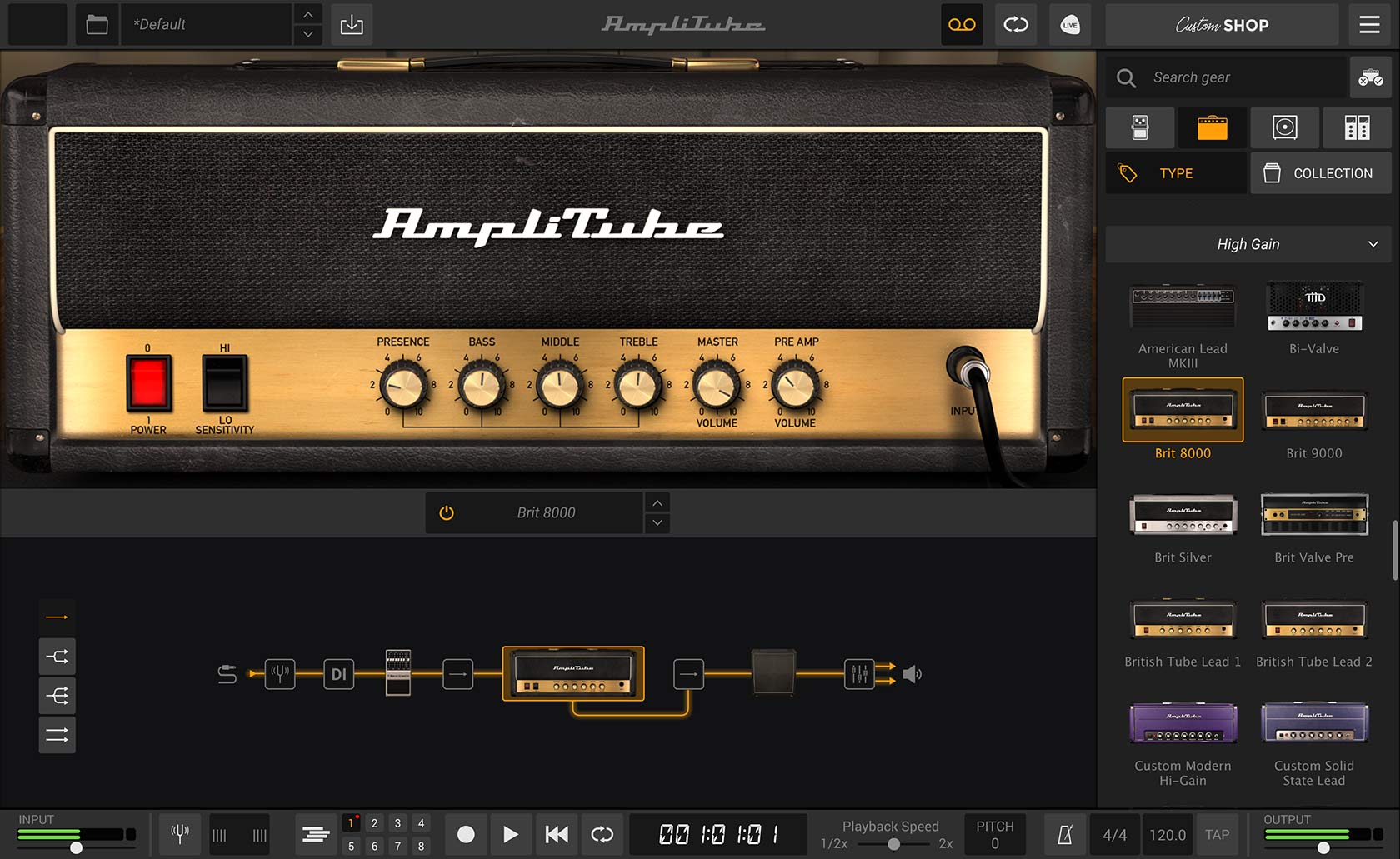 ---
AmpliTube 5 — step up to the modern player's 

ultimate tone studio
While AmpliTube gear sounds absolutely amazing in AmpliTube Custom Shop, it will sound even better with all the new and improved tone-tweaking features inside of AmpliTube 5 — features like the Freely Configurable Signal Chain and a re-designed Cabinet section to name a few.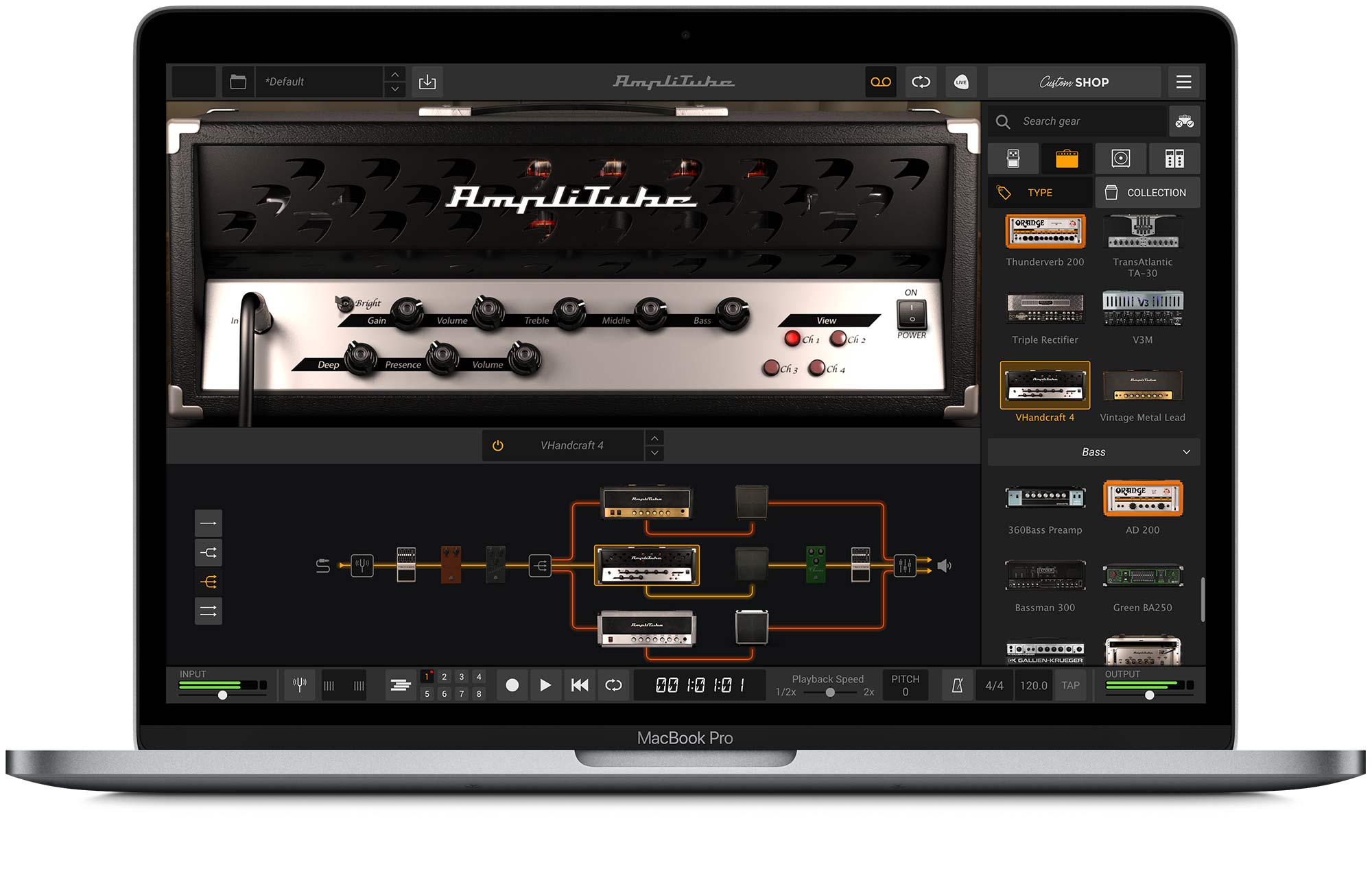 Freely Configurable 

Signal Chain
AmpliTube 5 features a new, completely customizable gear chain. Beyond mono & stereo, AmpliTube 5 now supports wet-dry-wet configurations and other advanced series & parallel routing.
The overall chain now supports up to a massive 57 simultaneous models across Stomps, Racks, Amps and Cabs. And setup is a breeze – just drag & drop any model into place, to build or re-position even the most complex rigs in seconds.

New Cabinet Section with 

VIR™ Technology
AmpliTube 5 premieres a re-engineered Cabinet section with all-new DSP. IK's new Volumetric Impulse Response (VIR™) uses 600 IRs per speaker, 1,200 IRs for a 2-speaker cab and 2,400 IRs for a 4-speaker cab, capturing a massive 3D array of mic placement options, plus all the interactions between speakers, cabinet and floor for a completely true-to-life sound.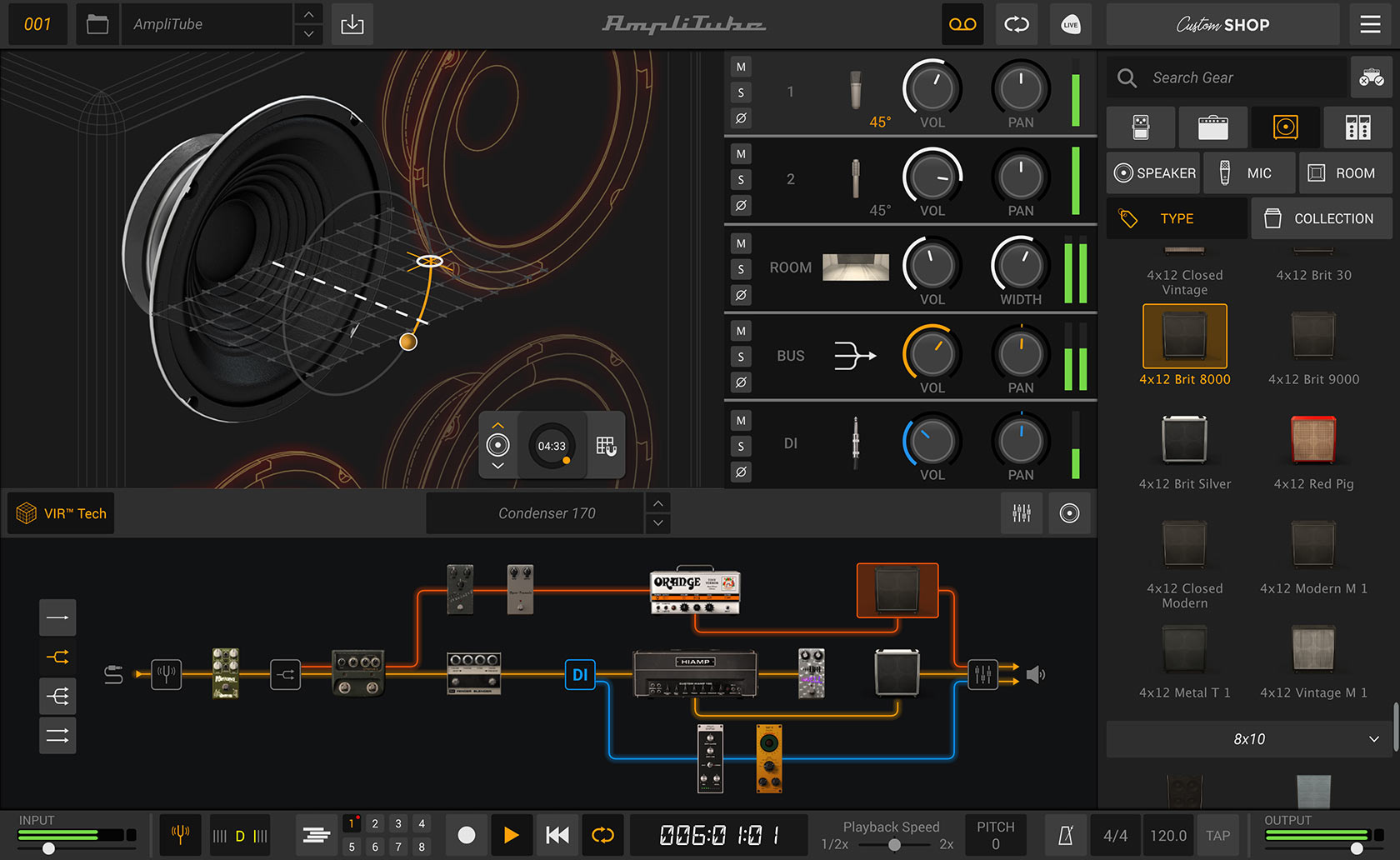 Track your creativity
As a standalone application, AmpliTube 5 also features an integrated 8-track recorder, plus a 4-track looper for quickly capturing your ideas as they come to you. And, of course, you can mix and match your favorite gear with any and all of the new AmpliTube 5 models to create your own one-of-a-kind tones.
If you haven't already, now's a great time to leap ahead with AmpliTube 5.