Surfing. Flying. Shredding.
AmpliTube Joe Satriani represents over 30 years of soaring melodies, amazing soundscapes and soulful technique created by the guitar master. Joe Satriani has inspired countless musicians and pushed the limits of rock guitar. From his very first solo EP to his work with supergroup Chickenfoot, Joe somehow keeps one foot in the blues and one in the stars. Now an arsenal of Joe's tones can be yours.
AmpliTube Joe Satriani overview
Gear collection for AmpliTube Custom Shop
12 models split between amps, cabs and effects
Breakthrough DIM™ technology for unparalleled realism
Sound-certified and approved by Joe Satriani
No previous version of AmpliTube required
Works seemlessly with the new Custom Shop updates
Also included in
AmpliTube 5 MAX
Total Studio 3 MAX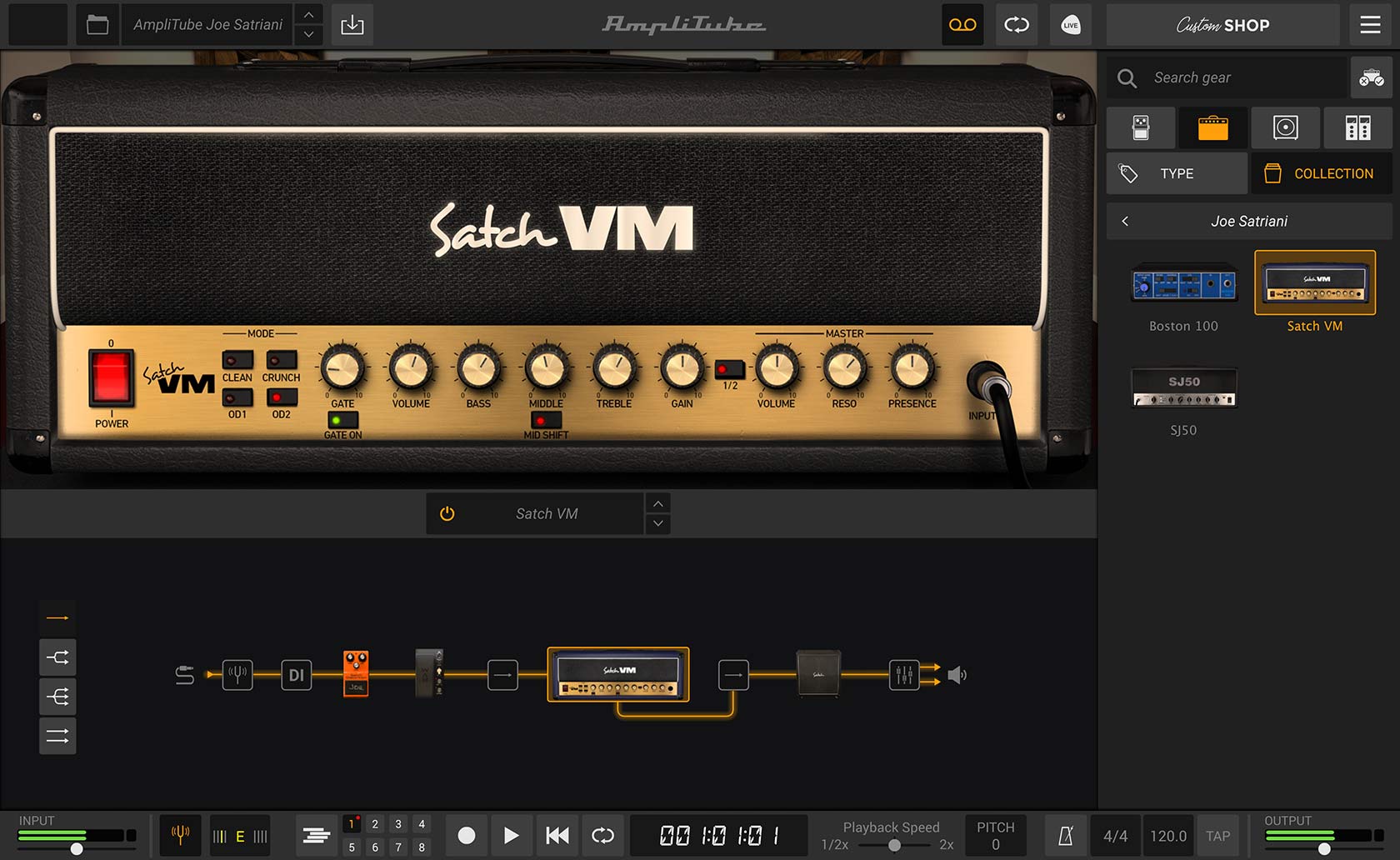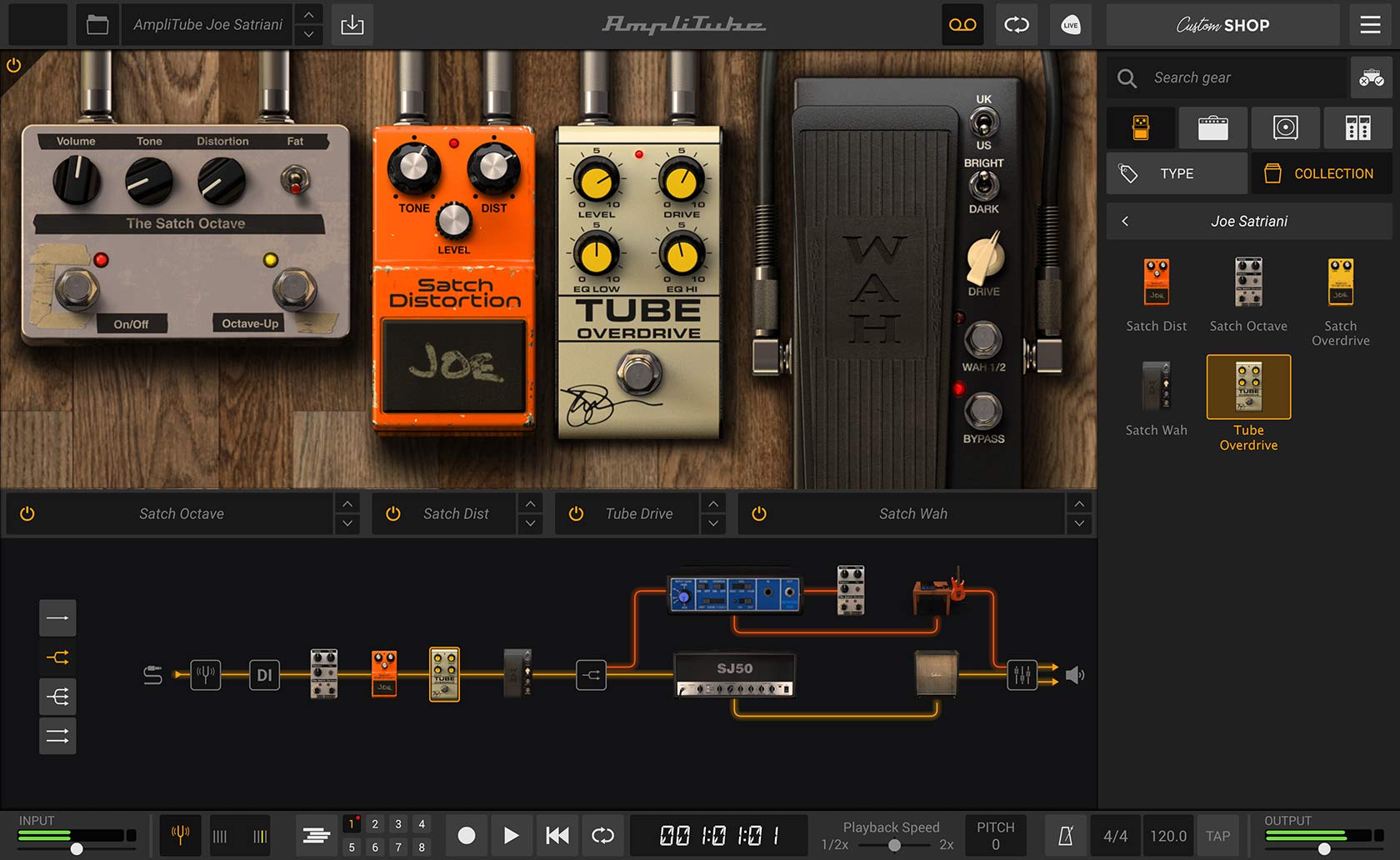 Unstoppable momentum
AmpliTube Joe Satriani replicates 3 amps, 3 cabinets, and 5 stompbox effects, all carefully modeled and loaded with presets, all under the supervision of the man himself. Whether you're looking for his most iconic sounds or for inspiration on your own musical journey, AmpliTube Joe Satriani gives you unstoppable momentum. Hear for yourself.
AmpliTube Shifting Song
Listen to Joe Satriani's "AmpliTube Shifting Song", an original song written and recorded by Joe himself that offers a unique retrospective of the many aspirational tones that span his full career.
Joe Satriani performed all of the guitar and keyboard parts in the song. He recorded it using more than 20 presets from AmpliTube® Joe Satriani through his personal AXE I/O premium audio interface.
Gear available in AmpliTube Joe Satriani
AmpliTube Joe Satriani features 12 models including 3 amps, 3 cabinets and 5 stomps. With models based on Joe's signature Marshall® JVM410HJS, a completely remodeled Peavey® 5150, a Scholz® Rockman™, plus a range of classic pedals BOSS® and more, it's a massive gear collection that's simply not of this earth.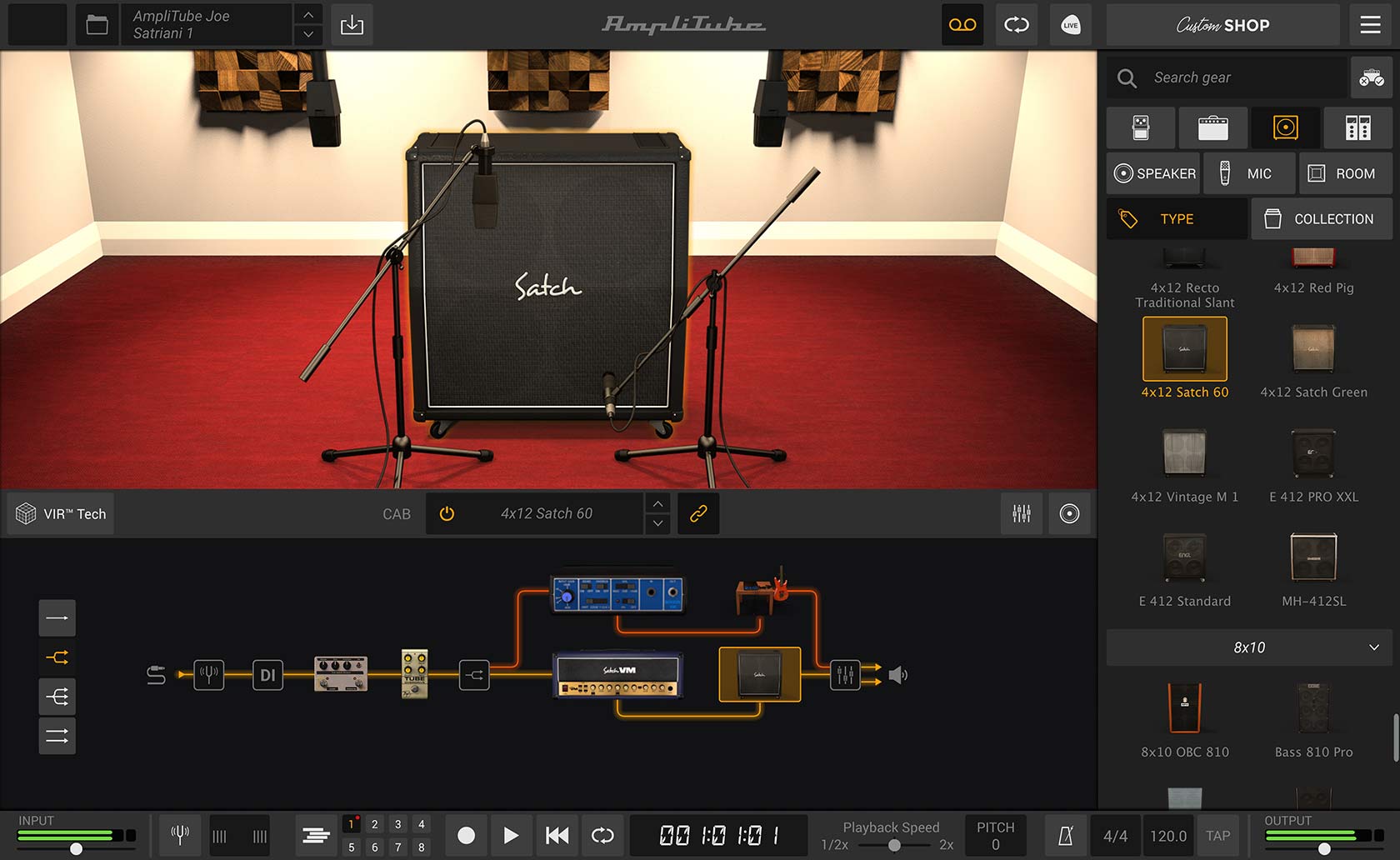 3 Cabinets
Satch Green
Satch 60
Boston Cab Sim
5 Stompboxes
Satch Wah
Satch Distortion
Satch Overdrive
Tube Overdrive
Satch Octave
1 Microphone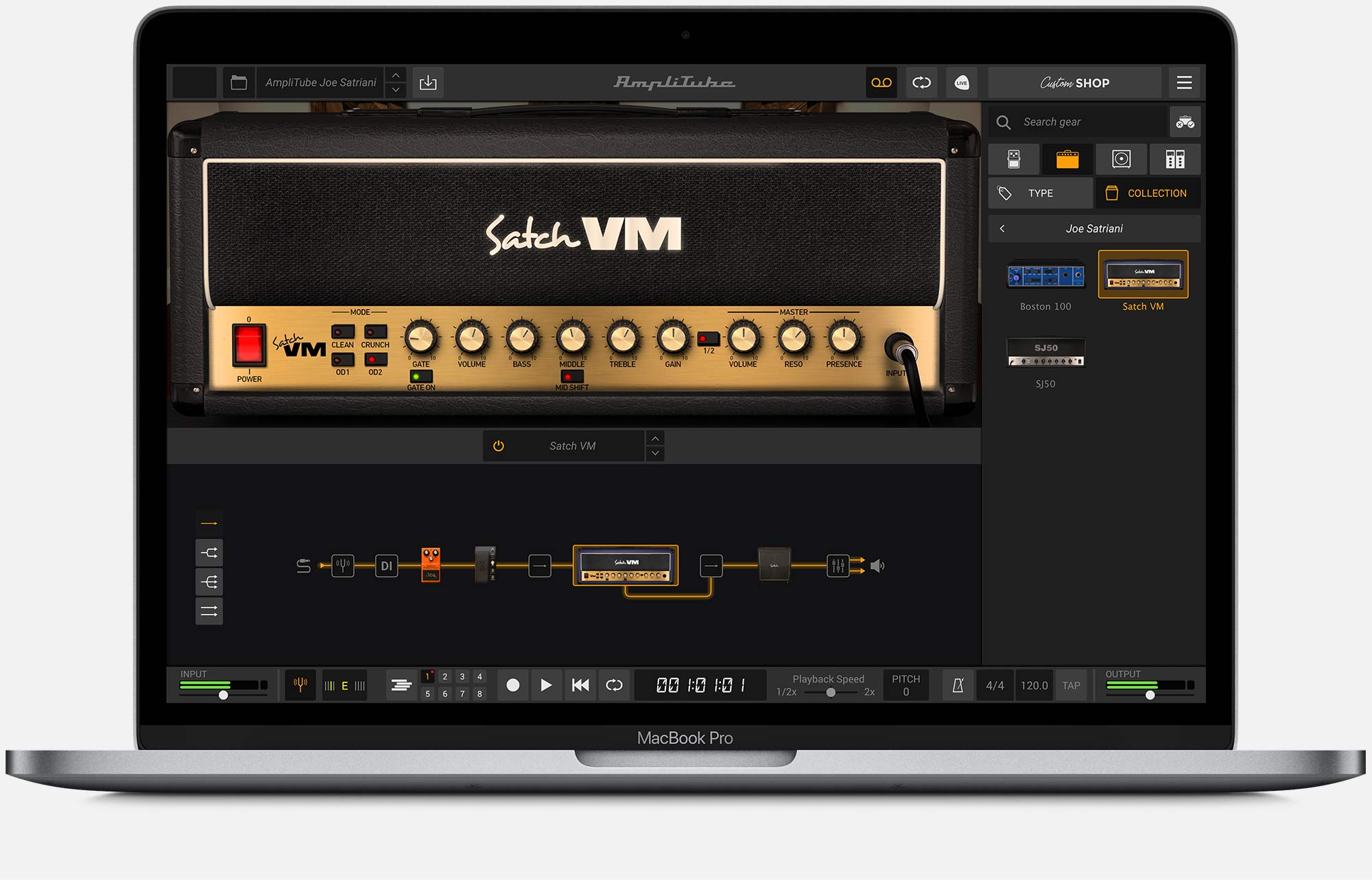 Shredding with the Alien
IK worked meticulously with Joe to capture his go-to gear and favorite settings to get the secrets behind some of his most iconic sounds. From Joe's signature Marshall® amp to his personal stompboxes, this collection includes iconic gear from the '70s, '80s, '90s and beyond.
Trust Joe to collect the gear he needs to get great tone, and IK to make it available to the rest of us. Give this unique collection a try today and see where it takes you.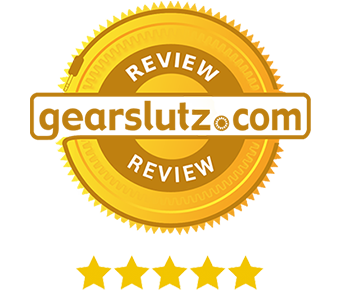 AXE I/O — Capture your guitar and bass 

at their best
Ready for the ultimate guitar and bass recording experience, that brings out every nuance of AmpliTube? Check out AXE I/O, IK's premium audio interface with powerful tone shaping tools. It's the audio interface guitar and bass players have been waiting for.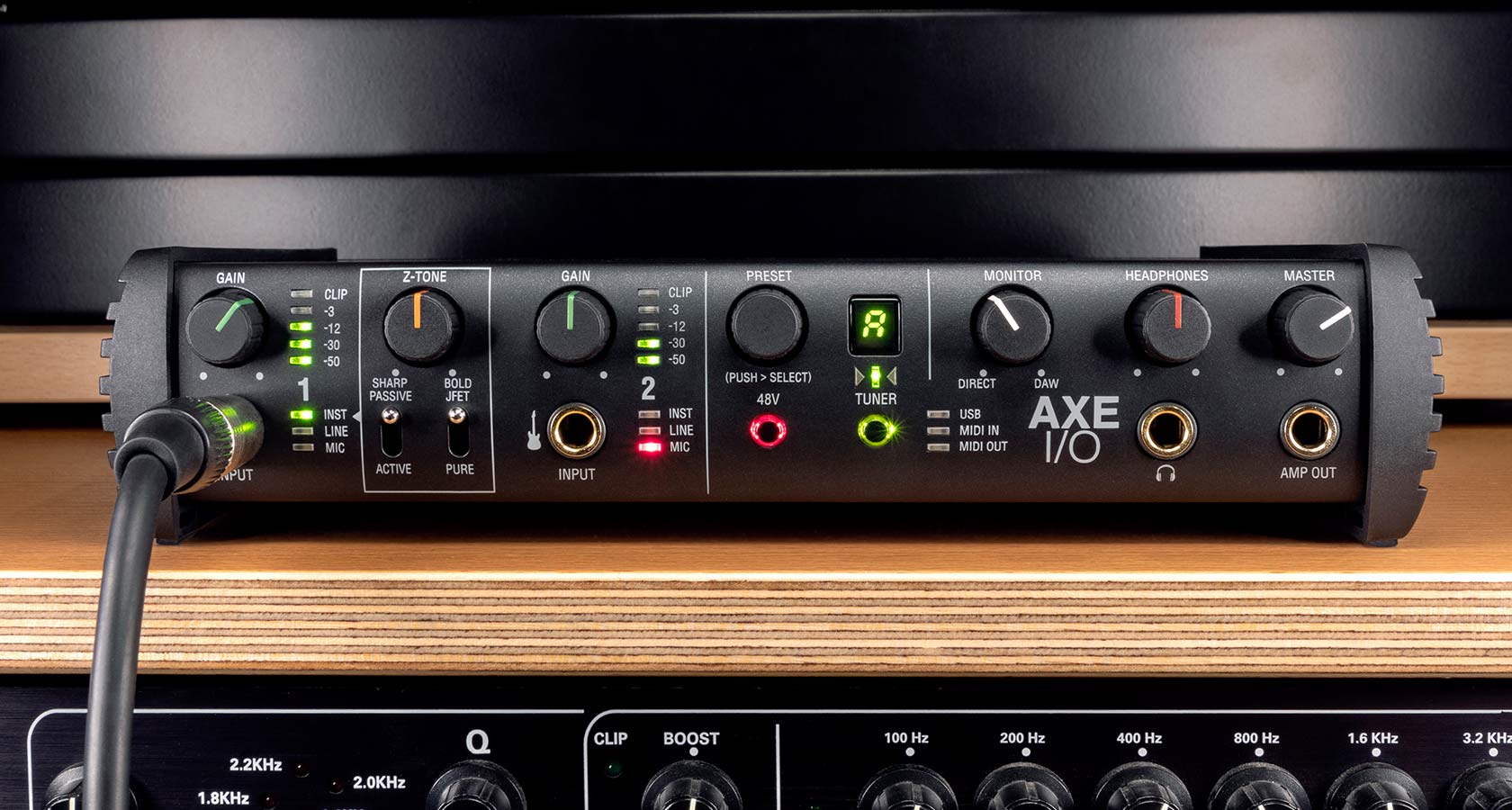 ---
Take MIDI control
AmpliTube is fully MIDI compatible, so all the knobs, controls and presets of this gear Collection for AmpliTube can be assigned and controlled with a standard MIDI controller, or a high-quality interface like the iRig Stomp I/O, or the convenient iRig BlueBoard.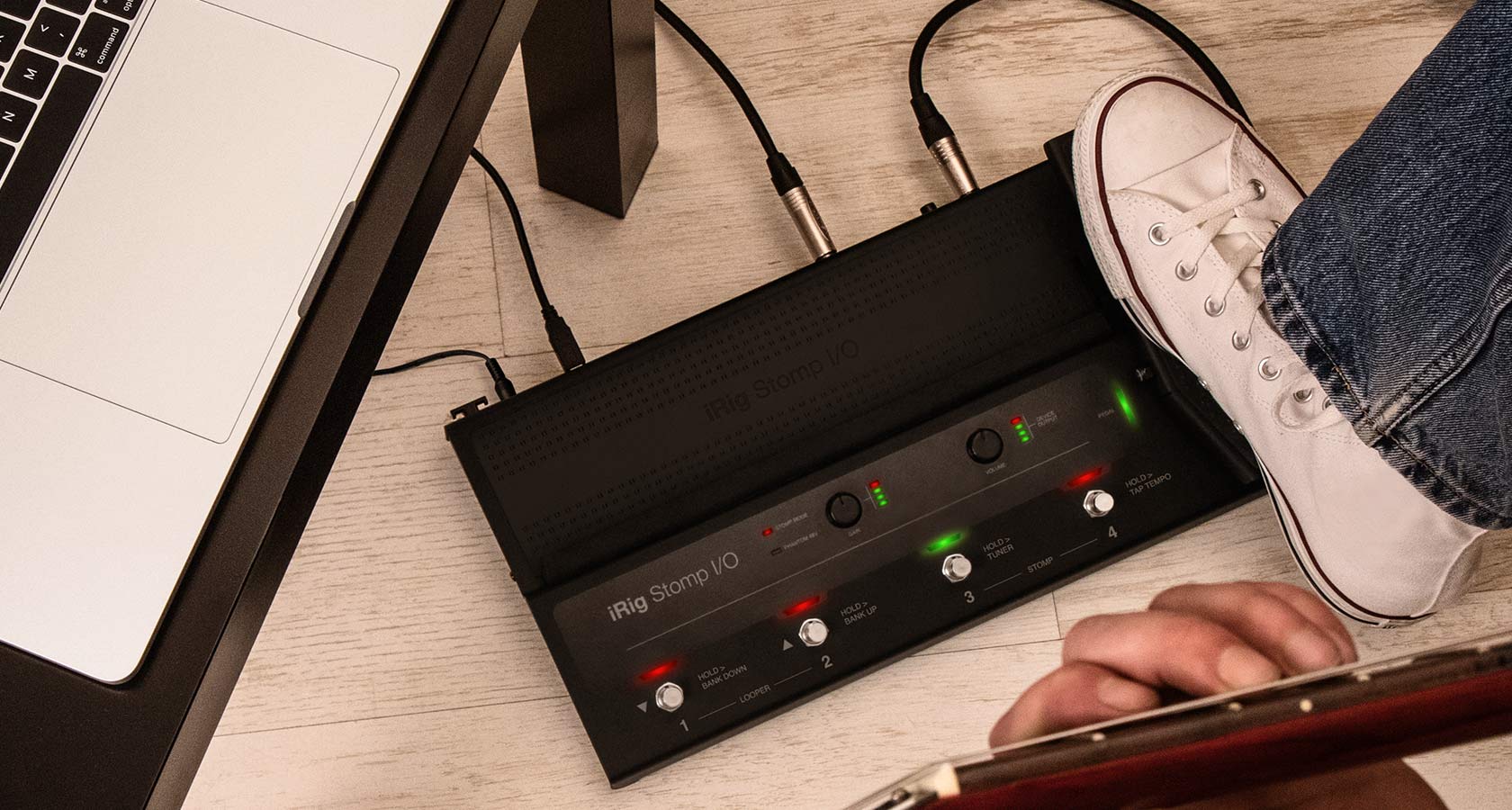 ---
A Time Machine of tone… 

for free
The AmpliTube 5 Custom Shop is a free software package for your Mac or PC that includes a complete guitar dual signal chain; tuner, pedalboard, amplifier, cabinet, microphone and rack effects section. It comes with 39 pieces of gear and access to our unique online virtual music store where you can purchase gear models either a-la-carte or as a complete collection. You can even create almost any rig you can dream up combining this gear collection with the universe of gear available to try or buy in Custom Shop.
When used as a standalone application, AmpliTube 5 Custom Shop features a 2-track recorder section and a song-player for easy play-along capabilities. The SpeedTrainer function allows you to slow down the audio so you can learn Satch's signature licks note for note without affecting the pitch.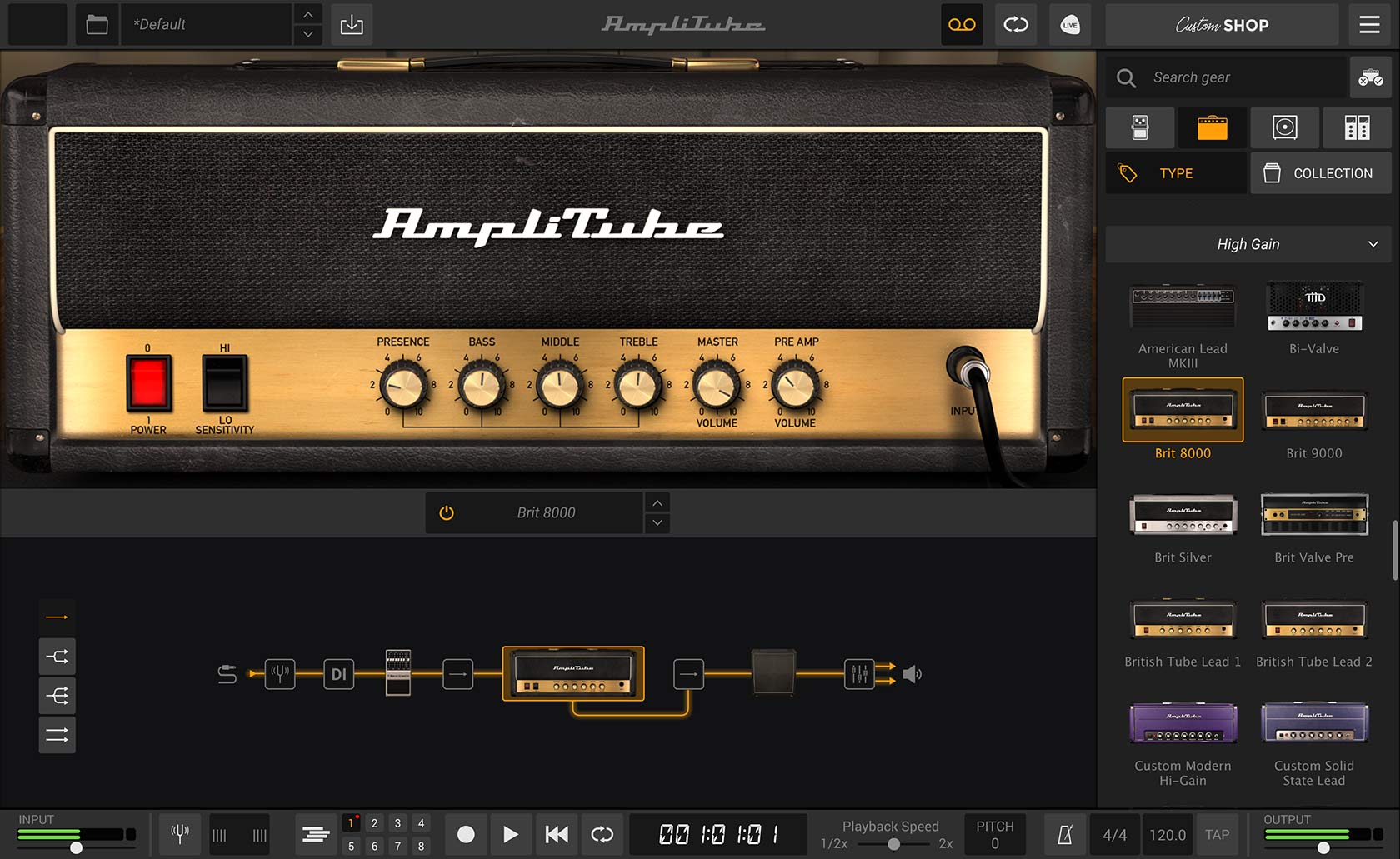 ---
AmpliTube 5 — step up to the modern player's 

ultimate tone studio
While AmpliTube gear sounds absolutely amazing in AmpliTube Custom Shop, it will sound even better with all the new and improved tone-tweaking features inside of AmpliTube 5 — features like the Freely Configurable Signal Chain and a re-designed Cabinet section to name a few.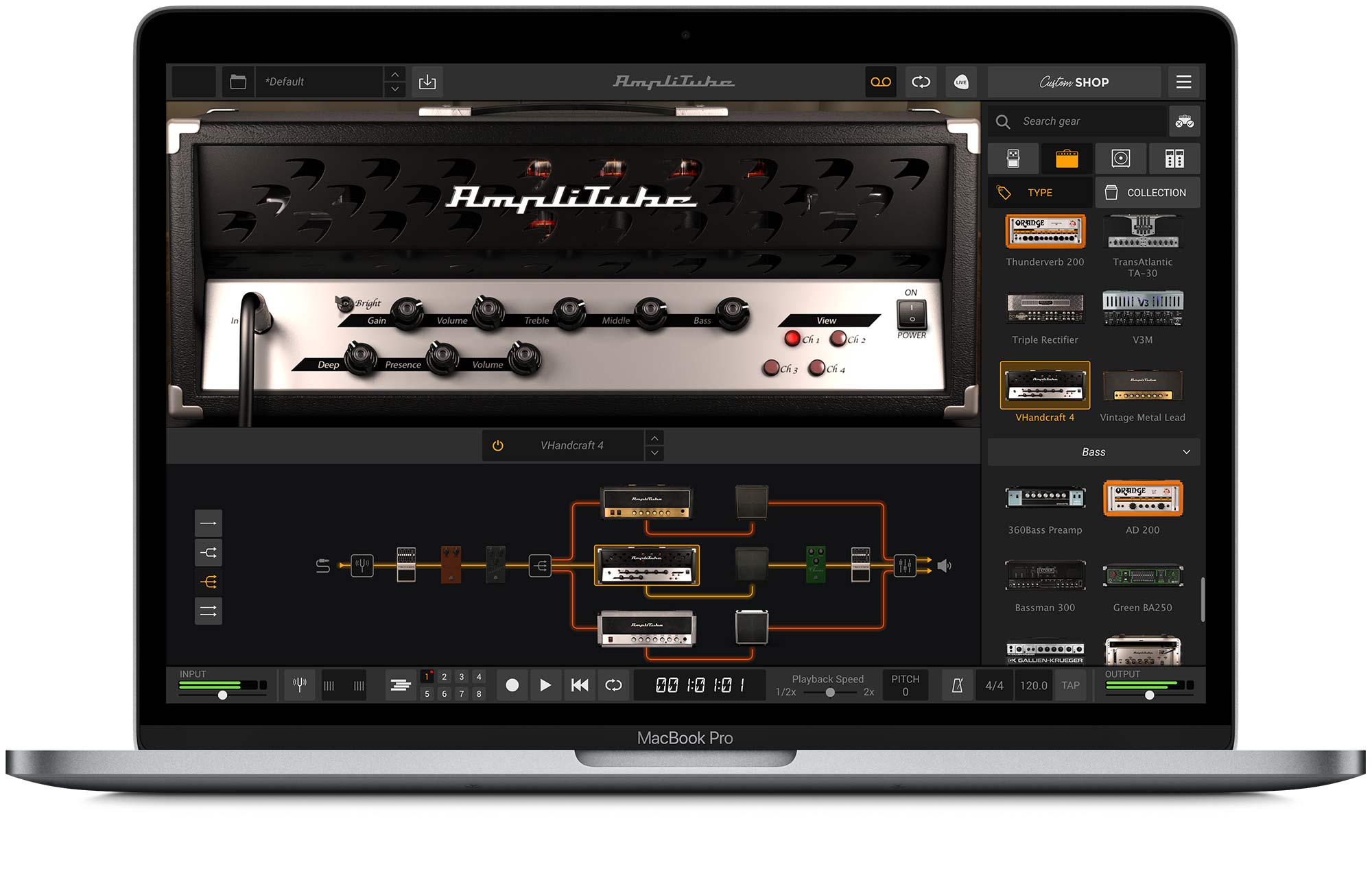 Freely Configurable 

Signal Chain
AmpliTube 5 features a new, completely customizable gear chain. Beyond mono & stereo, AmpliTube 5 now supports wet-dry-wet configurations and other advanced series & parallel routing.
The overall chain now supports up to a massive 57 simultaneous models across Stomps, Racks, Amps and Cabs. And setup is a breeze – just drag & drop any model into place, to build or re-position even the most complex rigs in seconds.

New Cabinet Section with 

VIR™ Technology
AmpliTube 5 premieres a re-engineered Cabinet section with all-new DSP. IK's new Volumetric Impulse Response (VIR™) uses 600 IRs per speaker, 1,200 IRs for a 2-speaker cab and 2,400 IRs for a 4-speaker cab, capturing a massive 3D array of mic placement options, plus all the interactions between speakers, cabinet and floor for a completely true-to-life sound.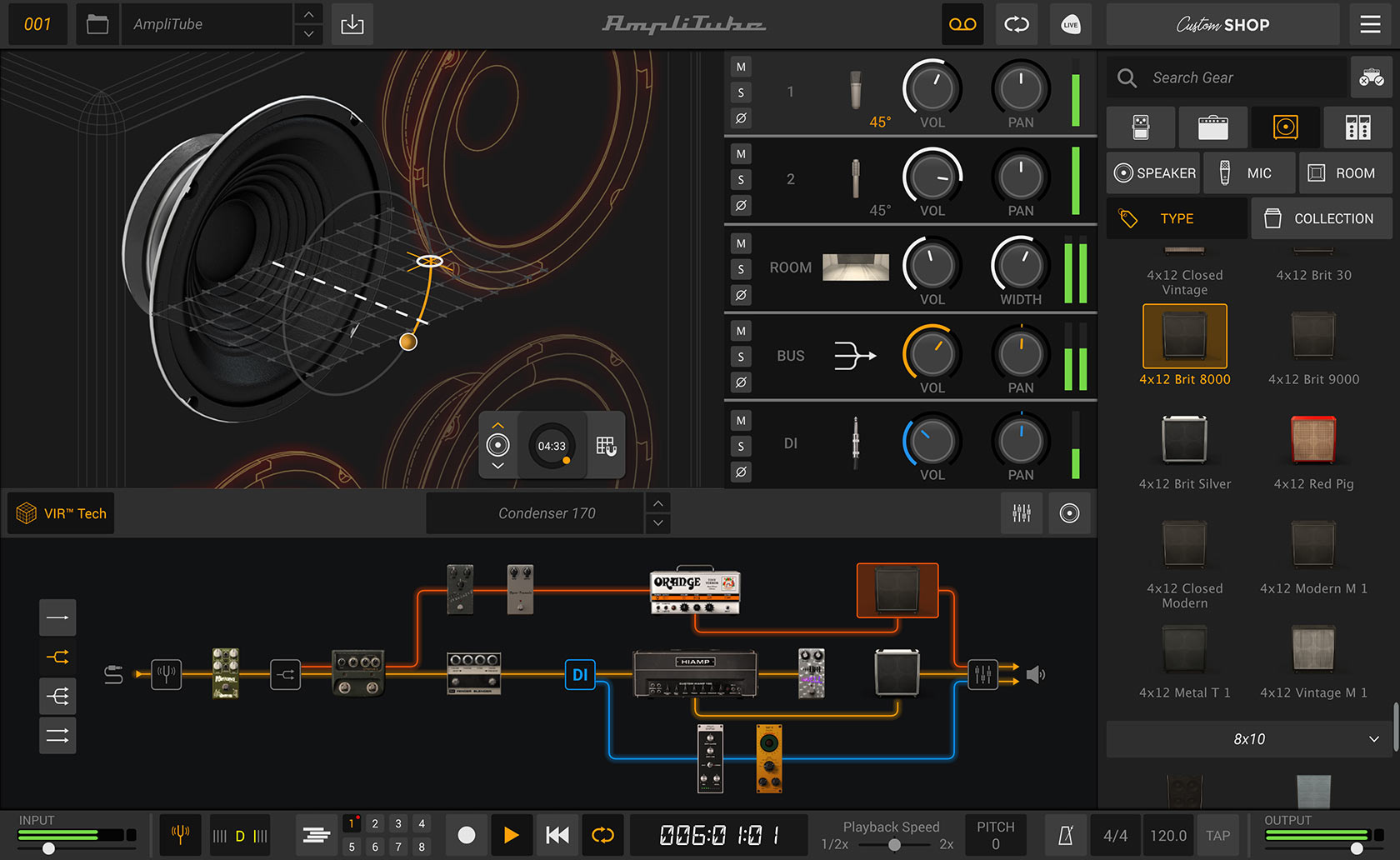 Track your creativity
As a standalone application, AmpliTube 5 also features an integrated 8-track recorder, plus a 4-track looper for quickly capturing your ideas as they come to you. And, of course, you can mix and match your favorite gear with any and all of the new AmpliTube 5 models to create your own one-of-a-kind tones.
If you haven't already, now's a great time to leap ahead with AmpliTube 5.